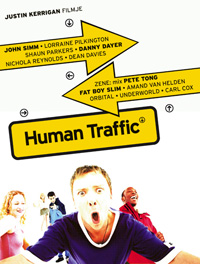 So I've been doing an Upfront tape for Sundance Channel (an advertising tape) and since it's not going on-air, we can use any music and any clips from movies to make it. I wanted to use a shot of some slo-motion dancing, like at a rave, and I remembered that there was such a scene in the film Human Traffic.
Described by imdb as "five friends spend one lost weekend in a mix of music, love and club culture," I saw HT a while ago, and skimming through it again I was really enjoying it…
At some point I'm going to sit down and watch the whole thing again, but for now I wanted to share a couple of clips that I grabbed to use in the tape I was working on. They both feature the main character's best friend, Koop, who is played by an extremely charismatic actor, Shaun Parkes.
A number of the scenes have really inventive staging, so here's a scene of Koop doing some bedroom DJ'ing, and working his job selling records…so much energy…I'm using a couple of the shots of him dancing in my tape and they make me smile every time I see them…
A quick look at Parkes's CV on imdb shows he was also in a series based on Lock, Stock & Two Smoking Barrels. What the heck is that?! Seven 1-hour episodes…good buzz in reviews…hmmm, I may have to check that out…