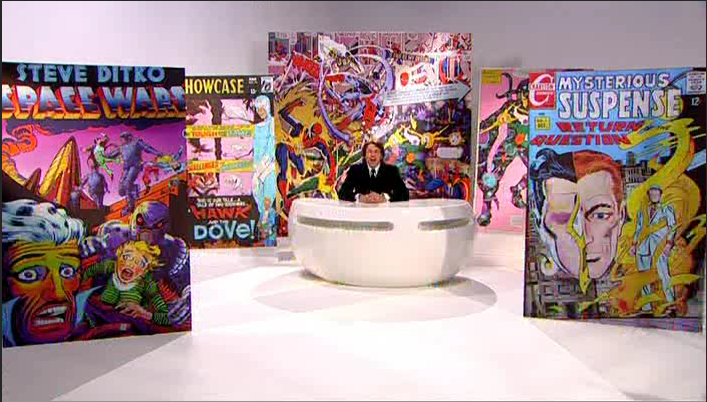 Walking back from yoga today, Maxine and I stumbled into a new sort of graphic arts store on 3rd st, right in the middle of Gowanus. Called Picturebox, it looks like it's in the middle of nowhere, but there were a couple of people in there when we were there, and from talking to the guy who was working there we learned that it's been a small art and comics publisher there for a year and a half. The art was very cool, graphic, psychedelic — just my style.
I picked up a Dr. Strange treasury from 1975 that looks absolutely amazing, and reminisced with the guy working there about how cool it was that Dr. Strange lived in Manhattan on Bleeker Street! I love it.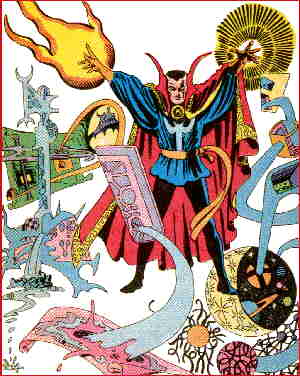 From looking at the art, by comics legend Steve Ditko, it got me thinking of this great doc that I read about a while ago and tracked down (with quite a bit of effort). It's by Jonathan Ross, who is a sort of British late-night talk guy, but gets a bit more respect than our Leno/Letterman dichotomy.
Called "in Search of Steve Ditko", it's about Ross's fascination with Ditko, and his attempts to track down the camera-shy artist. It's really fun and tough to find, so I'm putting it here for you to download and enjoy. It's about 600MB, and I've no clue what speed my server will go to, so maybe set it going overnight or something. If it's not working, let me know in the comments and I'll work out some other way to host it…
I originally read about it on Neil Gaiman's blog, because he shows up at the end to help Jonathan Ross out, so if you're a Gaiman fan, it's got that too. And Alan Moore, in all his crazy beard, crazy rings glory.
Jonathan Ross's "in Search Of Steve Ditko"
(right-click to download; left click to open as QT)