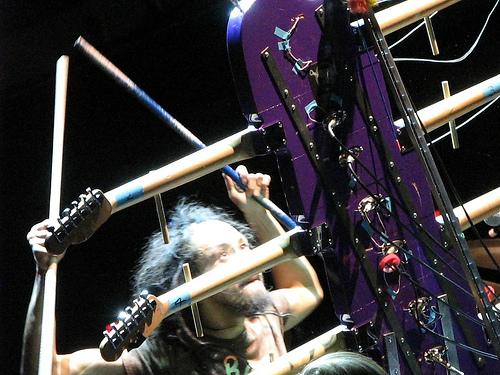 Welllll well well.
Last night Chris B and I went to Terminal 5 to see Boredoms (apparently not "the Boredoms", just "Boredoms").
You may not know Boredoms, but perhaps you know that one of their dummers, Yoshimi, is the Yoshimi from the Flaming Lips record "Yoshimi Battles the Pink Robots."
I tried to see them last July when they did their storied 77 drummers playing for 77 minutes on 7/7/07 at Brooklyn Bridge park (link to youtube clip), but the line was absolutely insane, literally the biggest line I've ever been in for anything in my life. If we're ever walking around in Dumbo I'll show you, it was crazy, it stretched literally for blocks!!…
So when I saw that they were going to be playing in NYC I snapped up a ticket. It was advertised that they'd be playing "in the round" and that sounded kind of great too. Chris got a ticket as well and we headed out last Sunday night.
It was one of the most amazing concert experiences I have ever had.
Top 5 easily.
Before we go any further, let's get a sense of what exactly Boredoms sound like. Because saying "japanese noise band" doesn't really do them justice. Here is a track off their masterpiece Vision Creation Newsun…the tracks on that album don't have any names, just symbols, so this track's name is actually a little heart symbol…try to make it at least 11 seconds in so you can get a sense of the drums kicking in…
Audio clip: Adobe Flash Player (version 9 or above) is required to play this audio clip. Download the latest version here. You also need to have JavaScript enabled in your browser.
I know, I know, not music I would necessarily recommend to everyone. But last night it was mindblowing.
A little more context first, let's have a look at my other top 5 mindbuggling concert moments:
Other events in my top 5:
– Mogwai at the Matador 10th Anniversary Concert…just fantastic…the loud/soft dynamic blew me away
– Badly Drawn Boy at the 930 club…where Maxine and I had such an outrageously expressive good time that someone from BDB's crew came out and gave us backstage passes…
– Yo La Tengo at 930 club…when the power went out in the whole block and they cancelled the show, a crowd of people hung around in the dark and a little while later YLT came out into the alley behind the 930 and played an acoustic set to a completely silent crowd on a completely powerless, dark block…transcendent…
– DJ somebody at sunrise on the morning after the Man burns at my first Burning Man…did it really happen? My brain's still not sure…wow…
– John Spencer Blues Explosion at the old 930 club on F st…small, packed, soul-clapping, danced my head off, I can still feel the electricity…
– Tom Waits at the Beacon, NYC, Mule Variations tour…having spent such a large and formative part of life where Tom Waits was my one true musical hero, and never having seen him live, when he announced he was touring for this album I got tickets as soon as I heard they were out (thanks Dan R!)….add to this the fact that Mr. Waits puts on an astounding show (dust, confetti, glitter, mirrored bowler hat, hammers and anvils) and this was top 5, easy…
– Monsters of Rock, Castle Donnington, UK, 1989…just look at this lineup: Kiss (no makeup though, booo!), David Lee Roth, Megadeth, Guns n Roses and Iron Maiden!
O.k., so I know there are more than 5 there, but you know, they rotate in and out.
The point being that when Chris and I stumbled into Terminal 5 (after trying initially to go in through the back door and almost bumbling backstage) we walked into a wall of sound unlike anything I've ever heard. It was shimmering, waving, getting into your brain, your chest, your mind, your heart. It was rhythmic, arhythmic, tribal, rocking, abstract, repetitive, modern, ecstatic.
With their stage in the middle of Terminal 5's cavernous concert hall, Eye was free to play to all sides of the room. The Boredoms themselves consisted of 3 drummers (each will a full kit!) facing each other, a synth player/tech, and Eye. In addition to singing and adding misc electronic mayhem, Eye played an instrument the likes of which I've never seen.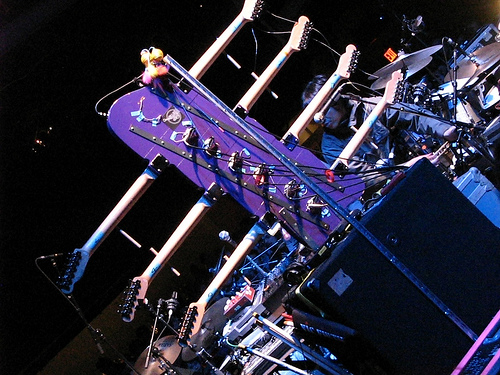 It resembled a tree, a big trunk with six guitar necks sticking out, three on each side. First the tech would go through and tune all the necks up according to some unseen prescription, and then Eye would get drumsticks and hit the necks in rhythm, each one playing a different chord. Or he would get a giant stick that would play 3 at once. And the lights were going in time to the music, with some of them whirling around so they would flash in your eyes.
The crowd was wild, a motley mix of indie kids, rave-style dancers, techno-tribal types, people like me and Chris, lots of small Asian guys in black coats. In front of me was a large fellow with a beard wearing a home-made t-shirt with glitter stars on it. At one point he sort of rolled it up his chest so it looked like a tube top. It was weird, but then nothing was weird. Everything was weird.
The music put me in a kind of trance. I would find my mind on these enormous internal flights, thinking about my life, love, past, future…only to sort of surface, and discover myself still in the midst of this meditative…noise. Full of the joy of life, the rising sun, the power of the moon, the full furor of being alive.
As you can see, I can't really put into words.
I'm glad there was someone else there with me (Chris B loved it as well), so I don't have to wonder if the whole thing was real.
Because, to add to the mythical aspect of it all, Boredoms don't allow any pictures! People were frisked on the way in, and if you had a camera they would take the battery! And when people would raise their cell phones to grab a shot, there was a row of security types in front of the band who would shine a penlight into the lens so they couldn't get a picture! I've never heard of anything like it.
Even so, as with anything these days that they try to stop, there are a few pics on flickr (like this one from trontnort), where I got the photos for this post.
What a show.
If Boredoms play anywhere in your area, you should really go see them.
Wow.