here we go, finally…there are so many photos, and it took a while to get them culled down…and then another while to get them posted…and then another while to caption them…but here they are:
From July 10th through the 20th, Maxine and I traveled down the Pacific Coast Hwy…from visiting Shelagh in Portland, Roscoe's wedding in Florence, the OR coast, the CA Redwoods, Sonoma wine country, to Z & G in San Francisco…enjoy the pix…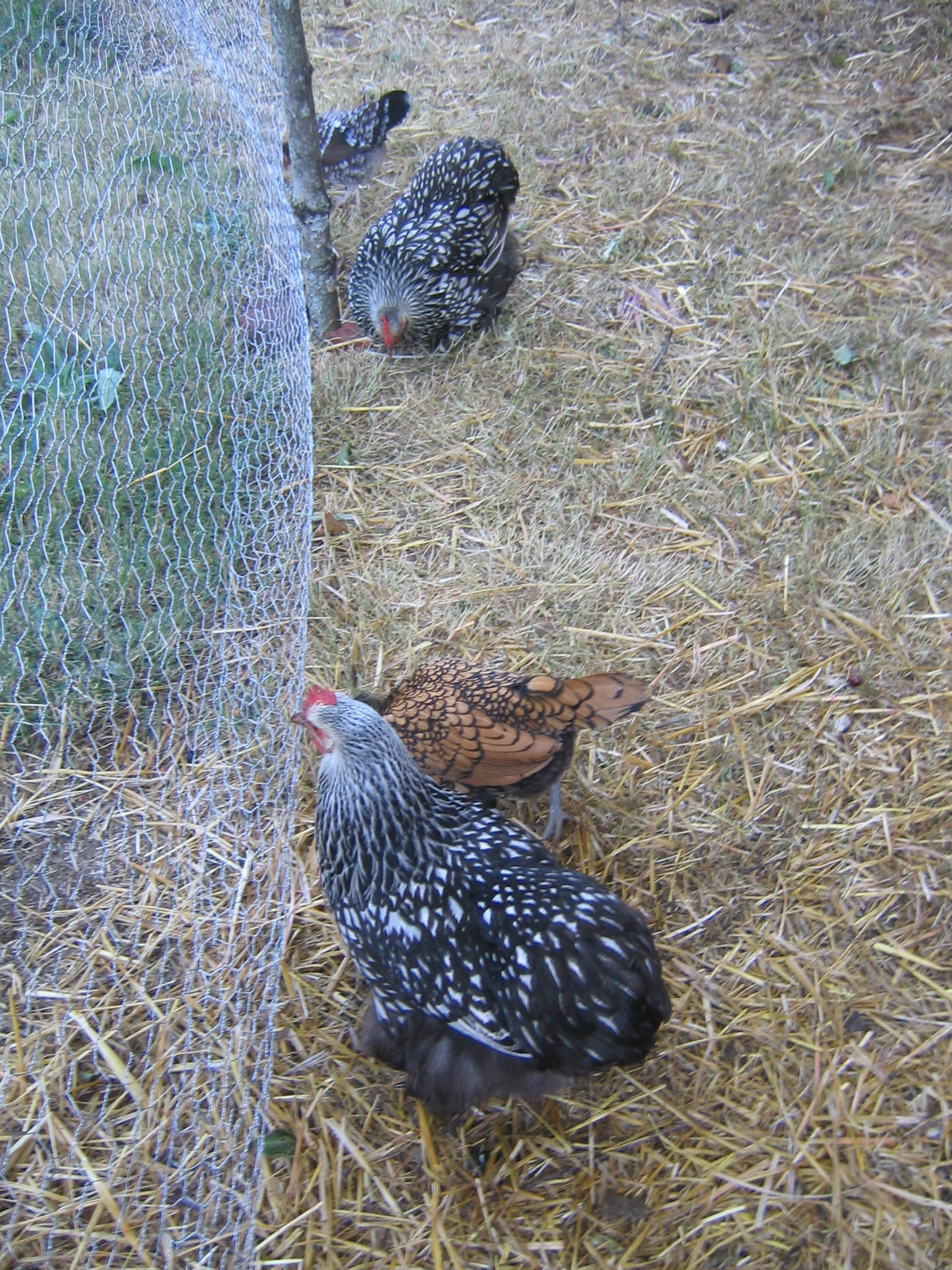 We started at Shelagh's in Portland, having dinner out in her backyard, hanging with her chickens…when the sun sets, the chickens know it's time for bed and the put themselves to sleep! Shelagh, her husband and new baby Marty seem pretty great…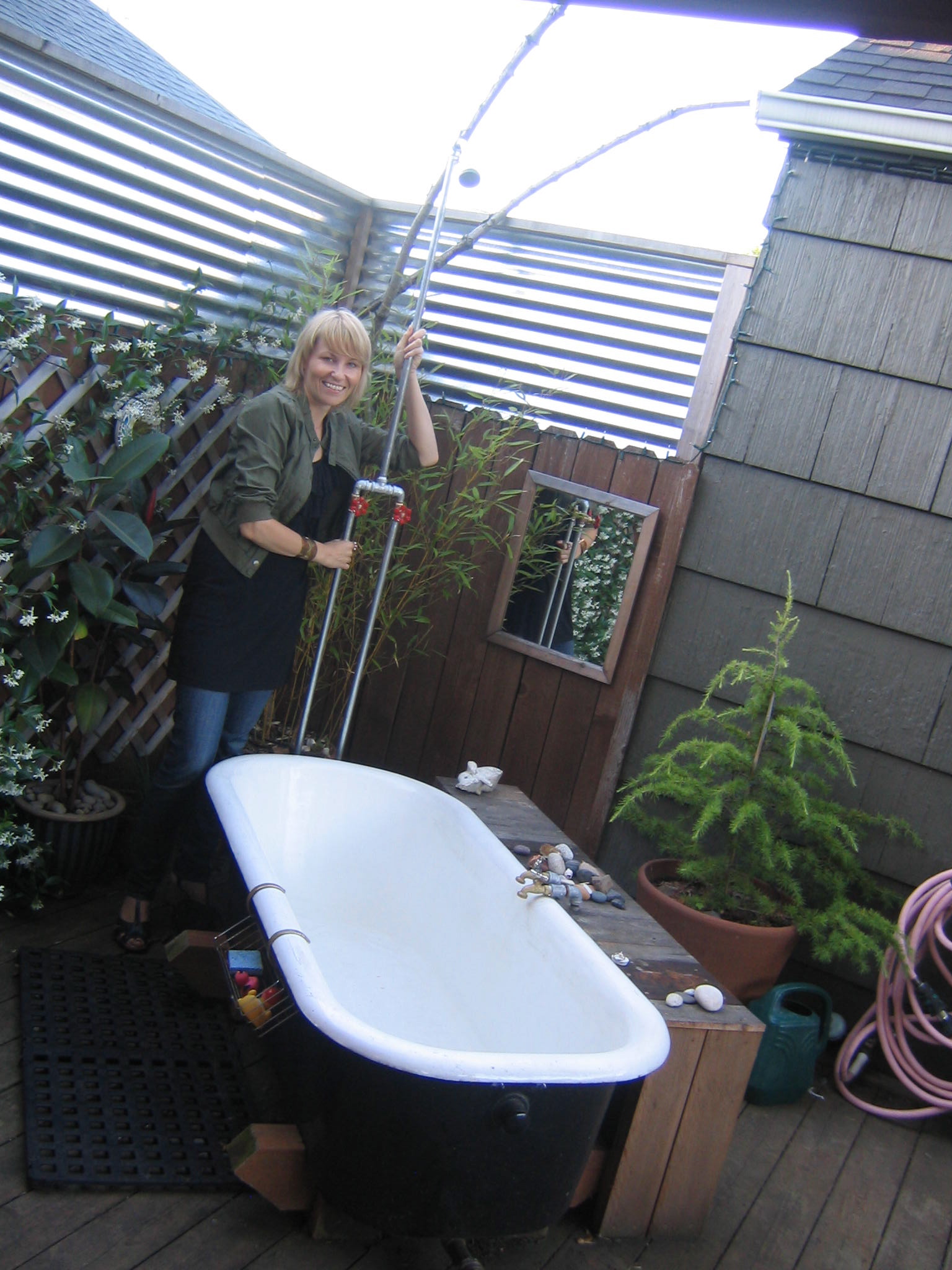 Also her husband installed a bath outside! The fence is high enough that there's privacy, so they can experience bathing outside…seems like it would be so sweet…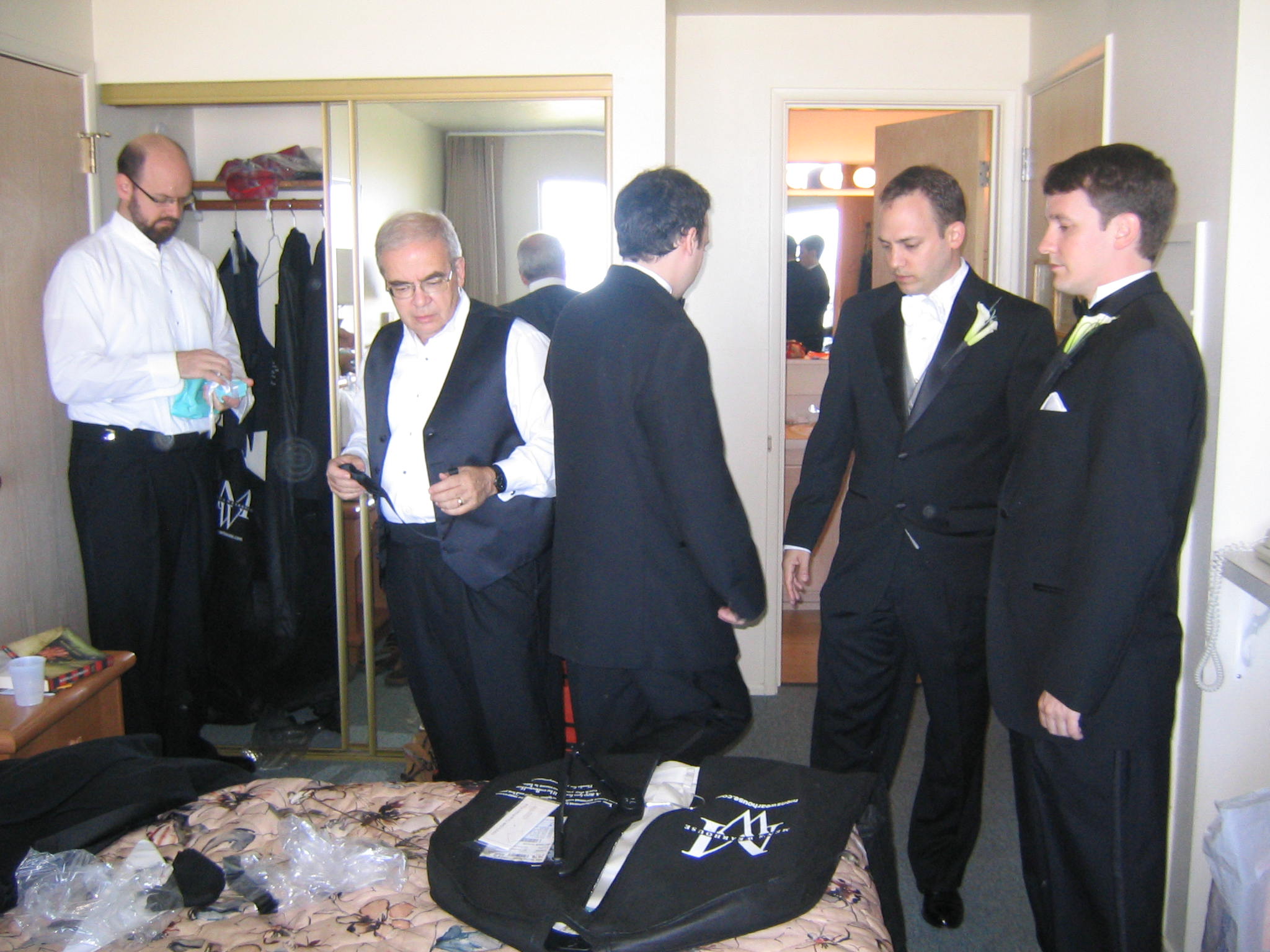 Next day we jetted down to Florence, OR where I was the best man for Roscoe's wedding…I got to make the scene in a tux, and I think it's the first time I've ever worn one…unless I wore one for prom? I hope I didn't…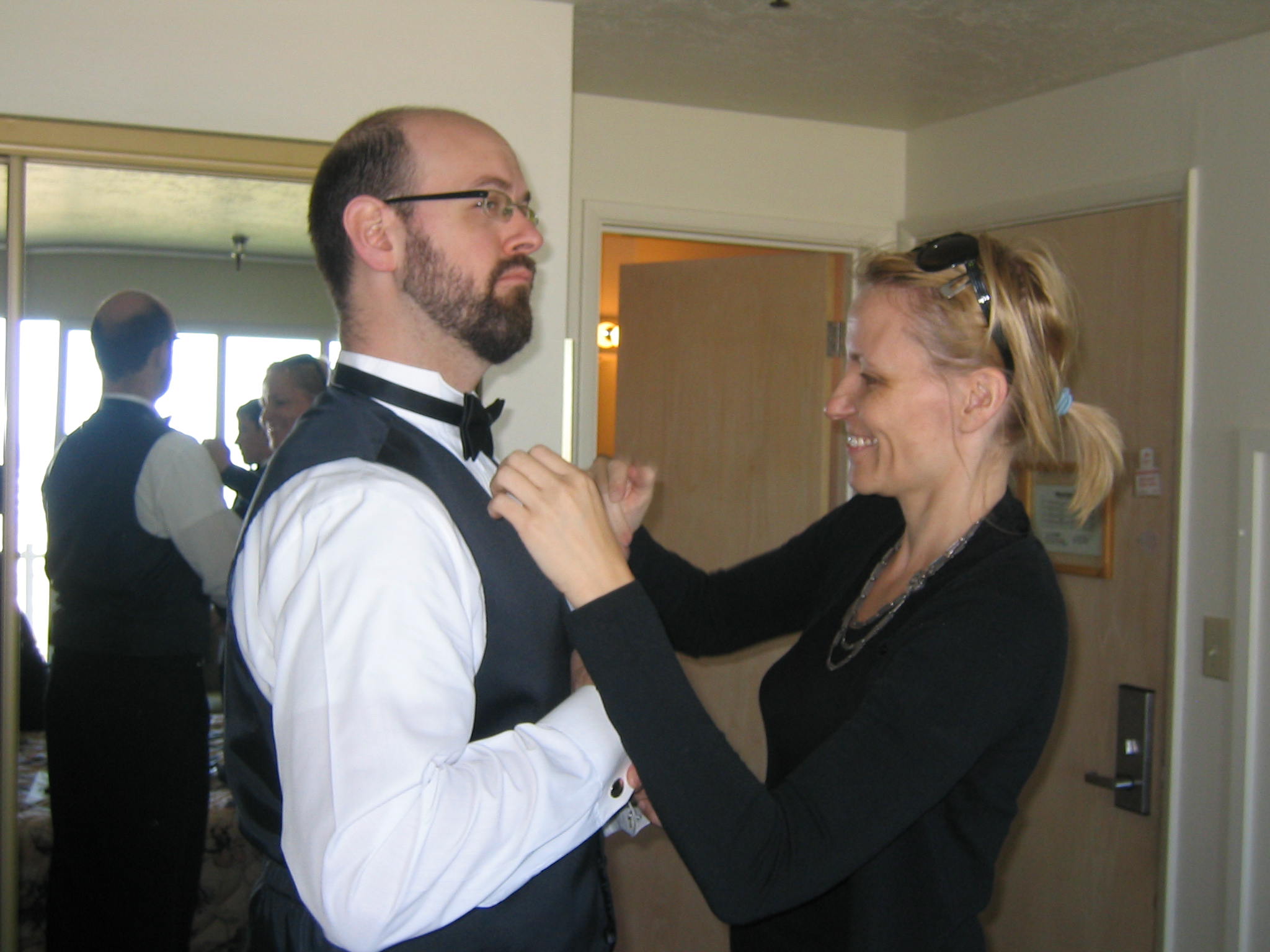 If Maxine hadn't been there, half of us wouldn't have been able to get our ties tied…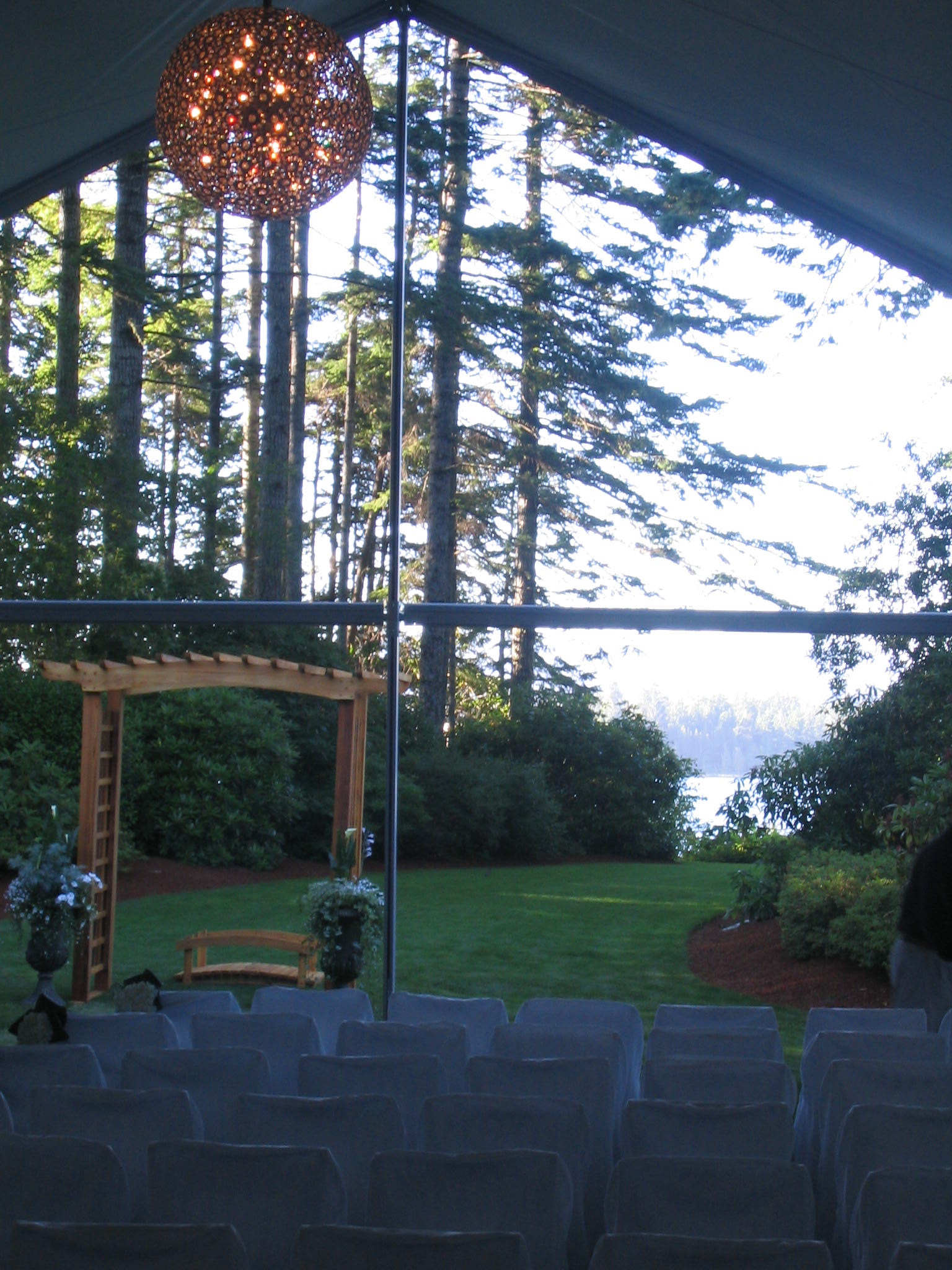 The wedding was fancy shmancy…set between two lakes at the house of the bride's grandparents…among other things, they had a disco ball made with Swarovski crystal…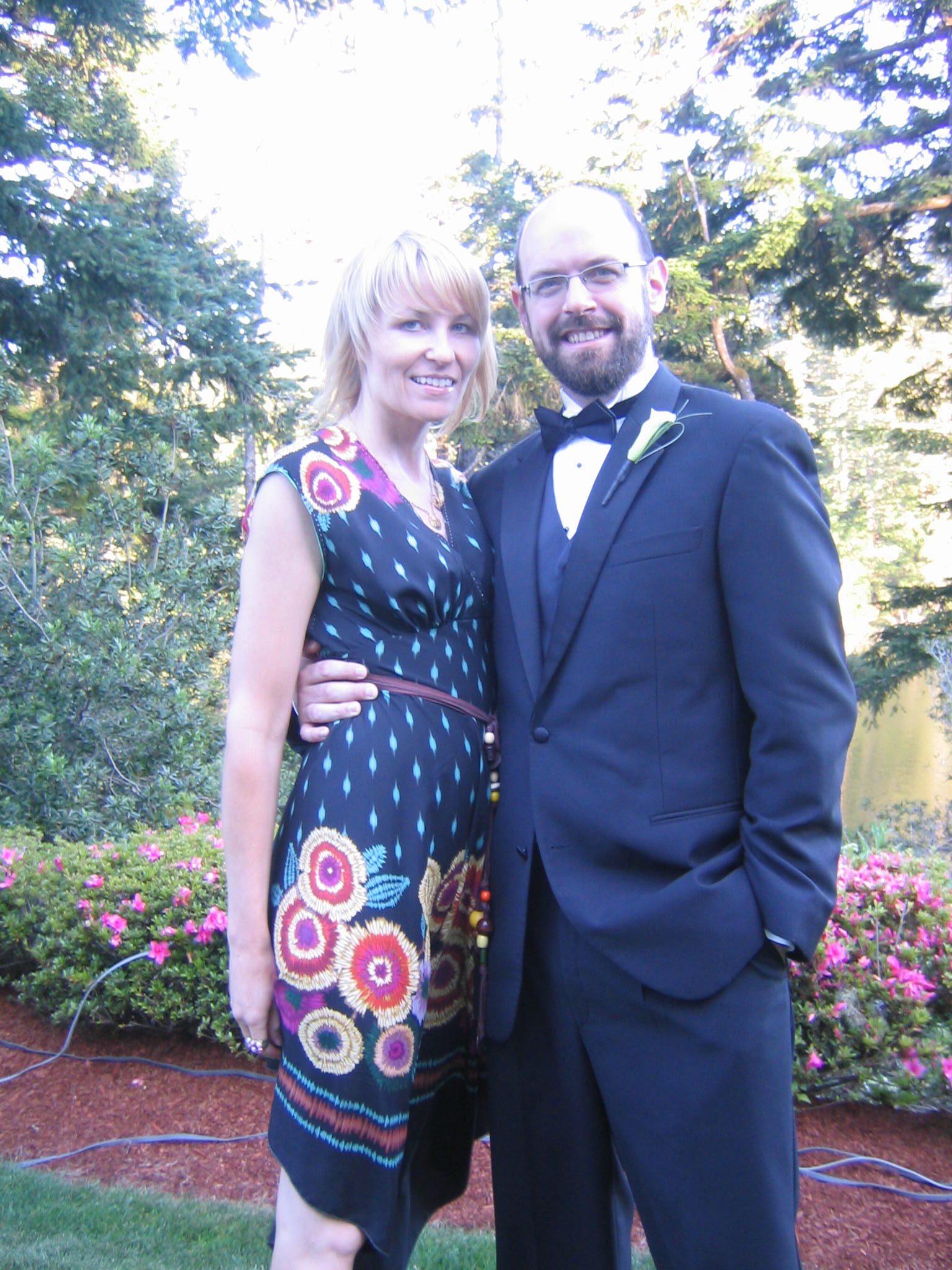 Maxine and I made the scene like scenesters, looking sharp like knives…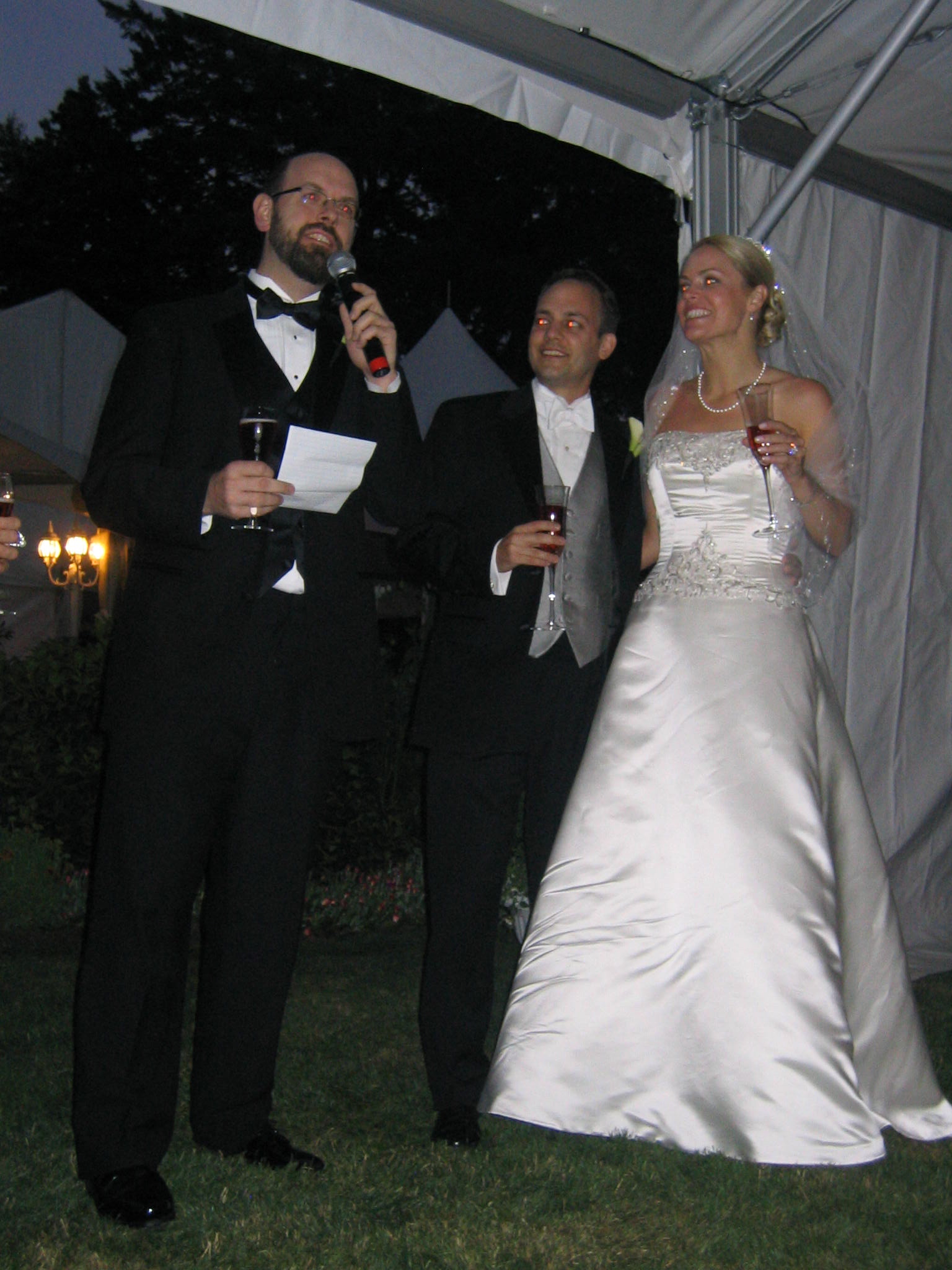 I got to give the best man speech, which I had stressed over for quite a while and furiously written on the flight out and at the hotel the night before…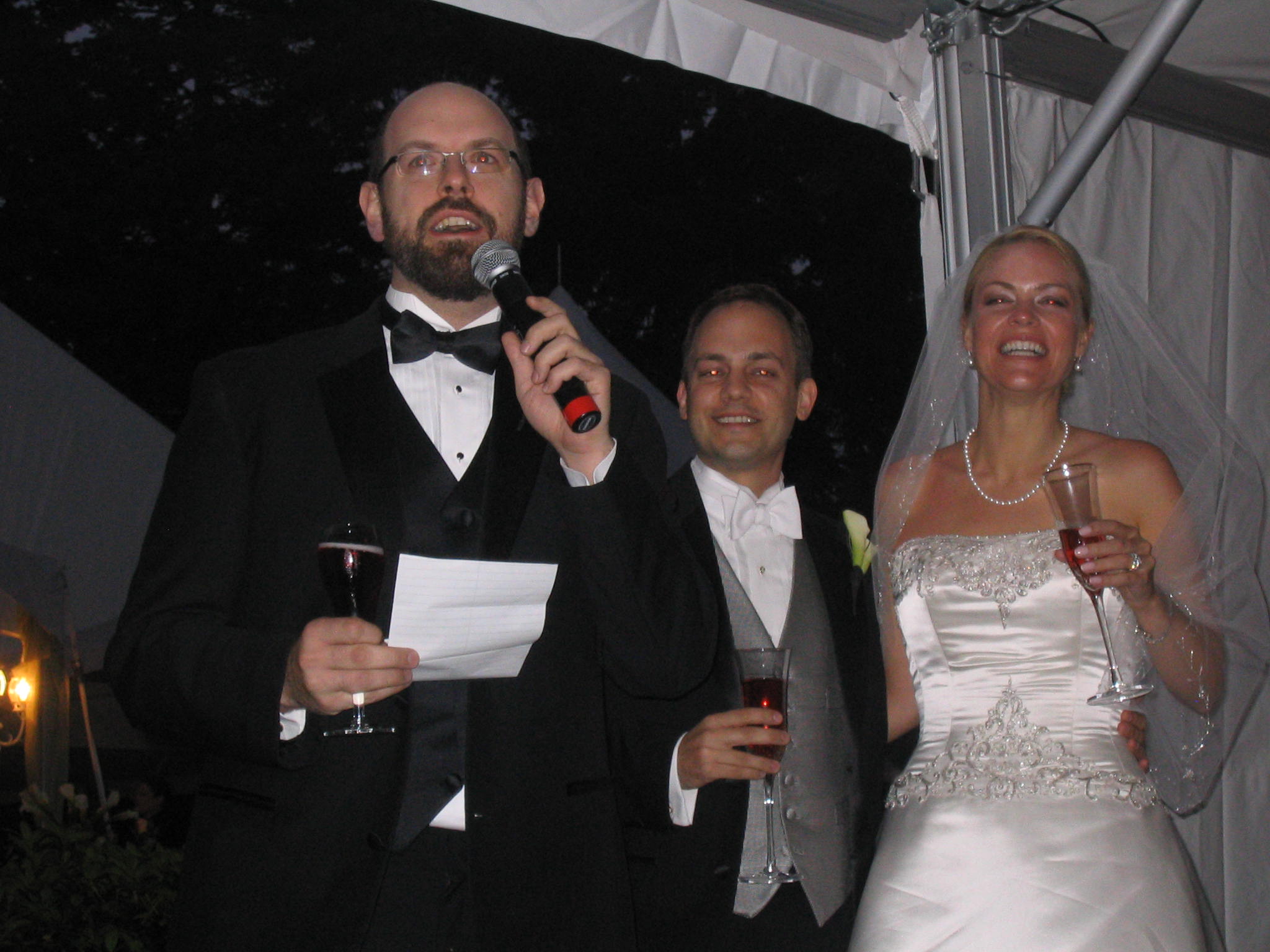 It seemed to go well…in it, I compared Casey, MIke's bride, to a secret Chinese menu from Yenching Palace…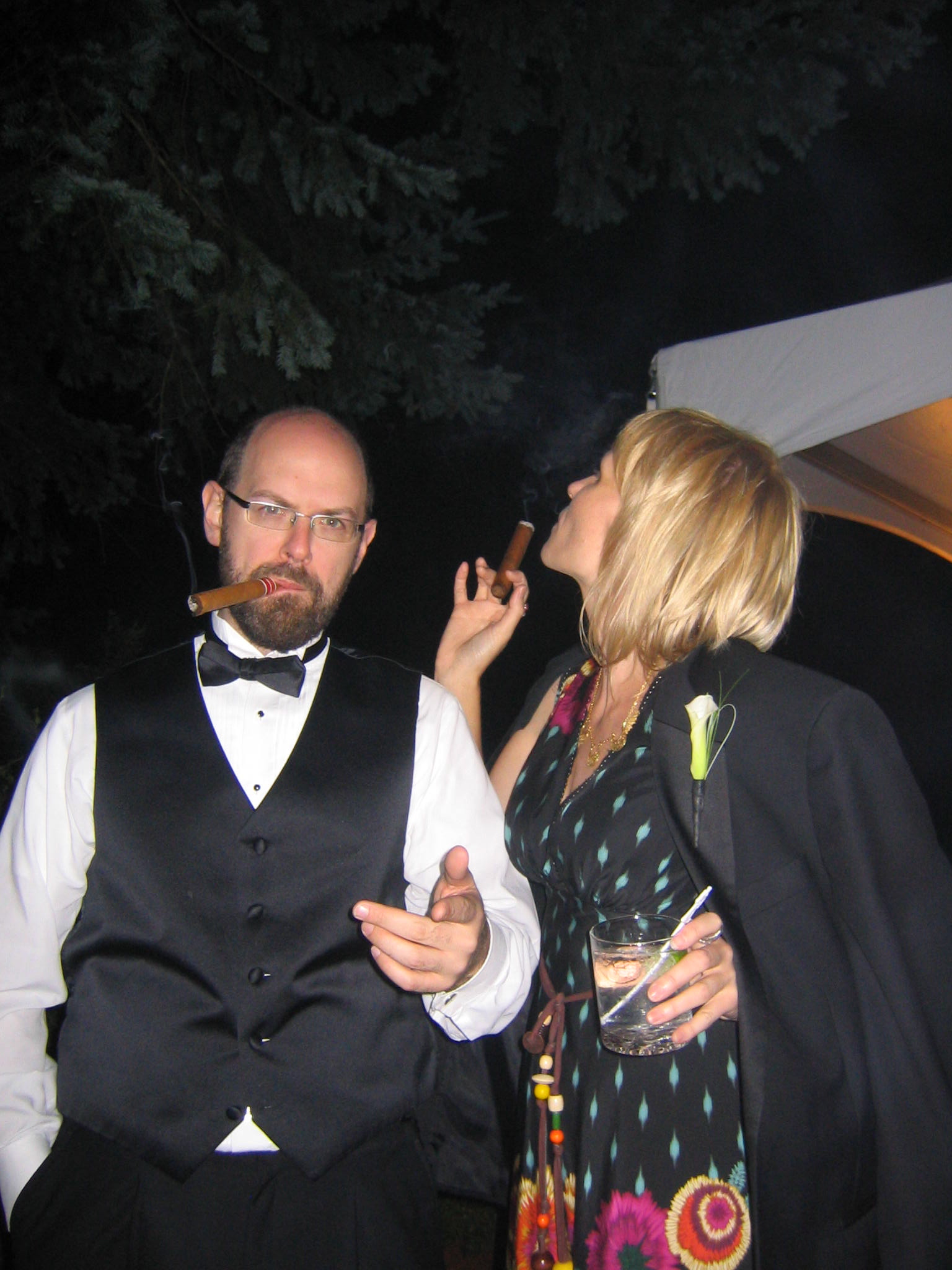 Much drinking, hilarity and cigars followed…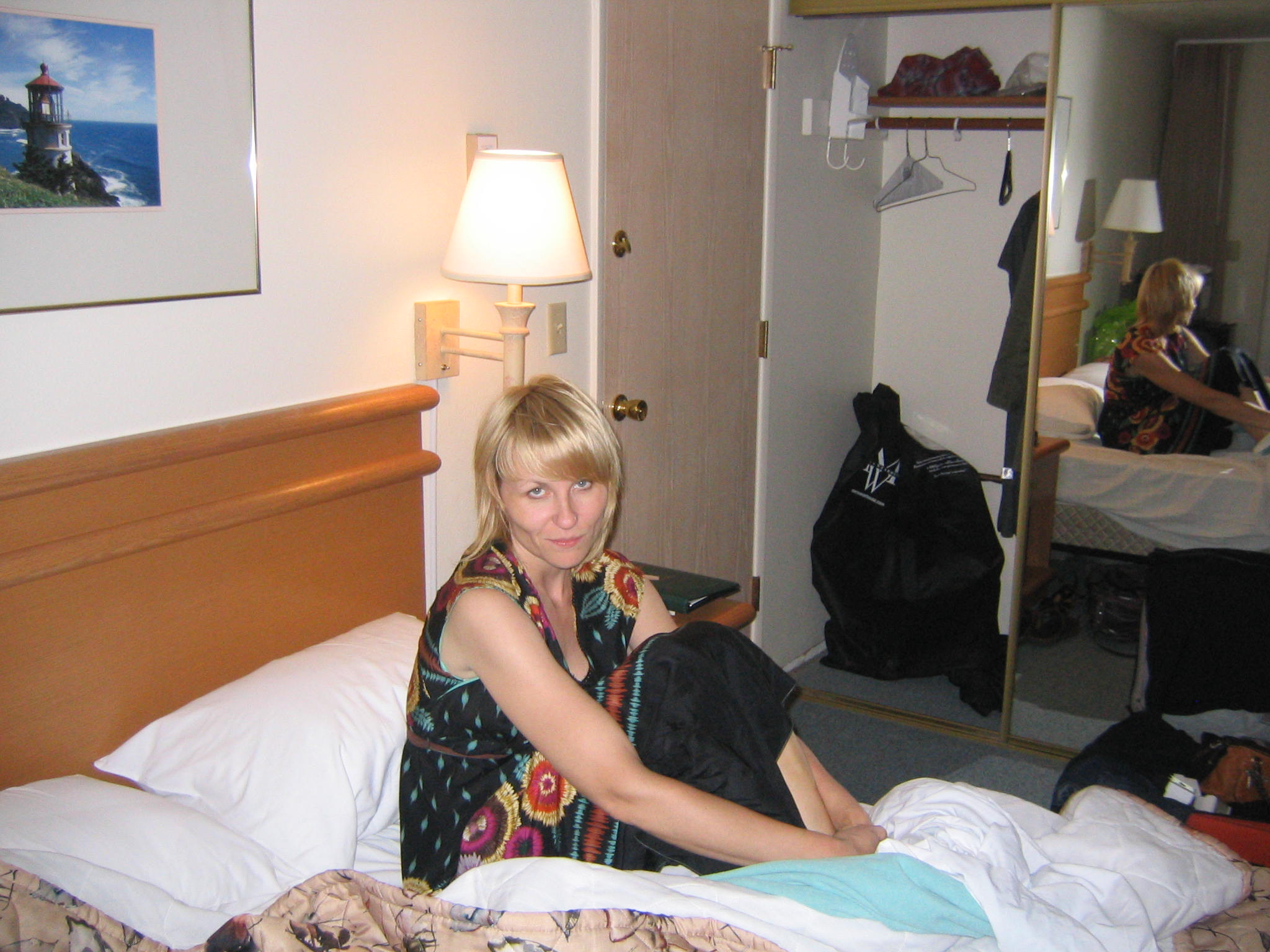 Later that night, Maxine went to bed and I found myself on the beach in my tux with a small group from the wedding…there was a bonfire, and more drinking, and um, probably some other things that I'm not quite clear about…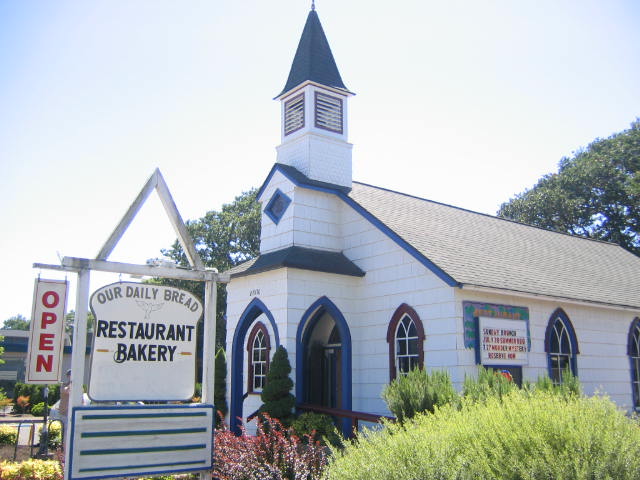 the next day, in a cloudy mental haze, we headed inland to attend the Oregon Country Fair…a sort of legendary event that happens once a year in a wooded glen along a river…very hippy, very 60's, very JR Tolkien…all in a good way…we got our tickets from an old church that had been turned into a bakery called "Our Daily Bread"…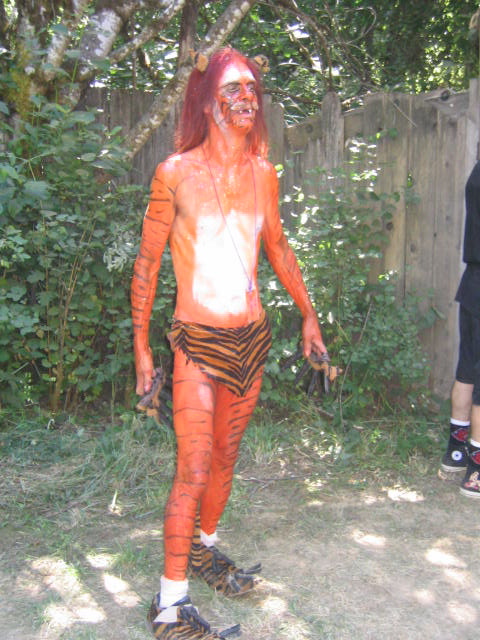 at the Country Fair, the costumes were fantastic…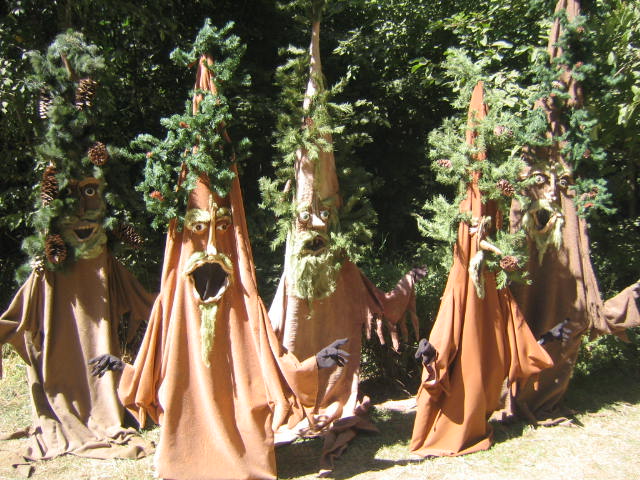 as were the strange sculptures dotted about…
no really, the costumes…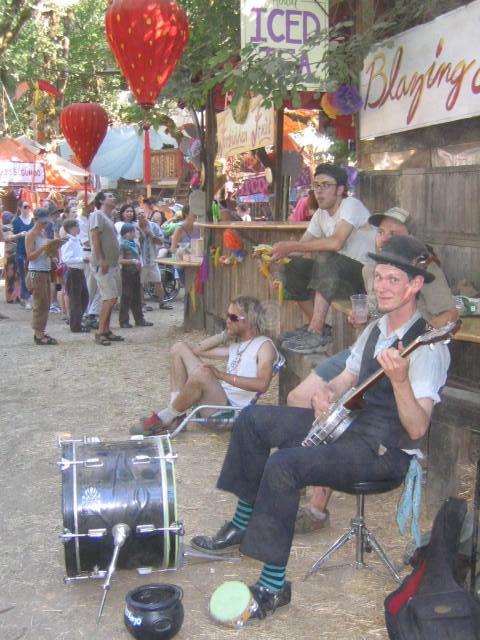 and lots of music just hanging around every corner…this guy was rocking the banjo and had the tambourine on his foot…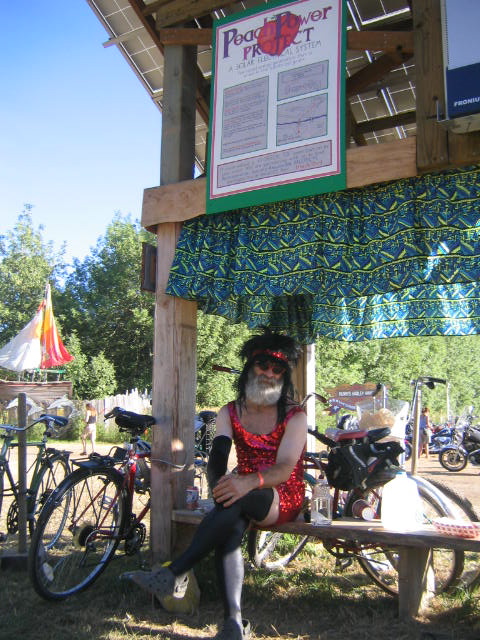 beards and dresses…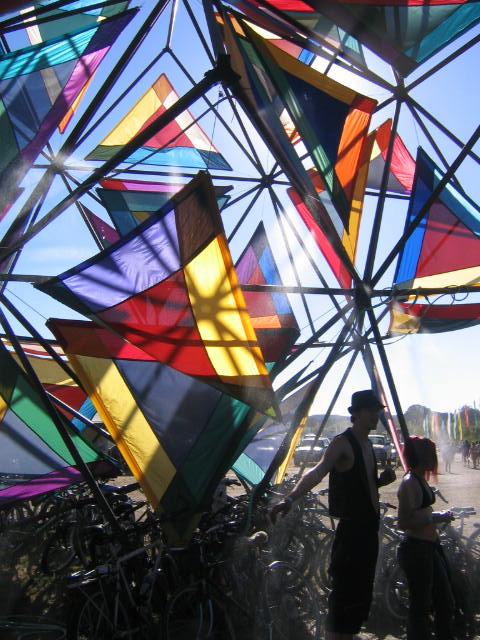 it was sunny and hot, we were hung-over, but there was nice shade…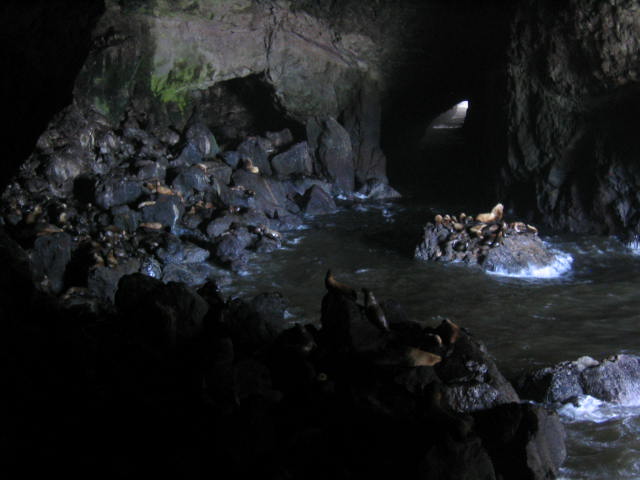 the next day we headed a little bit north to check out the sea lion caves, a natural haven for sea lions…so many of them! they were load and roaring, and battling over who would get the higher plateaus…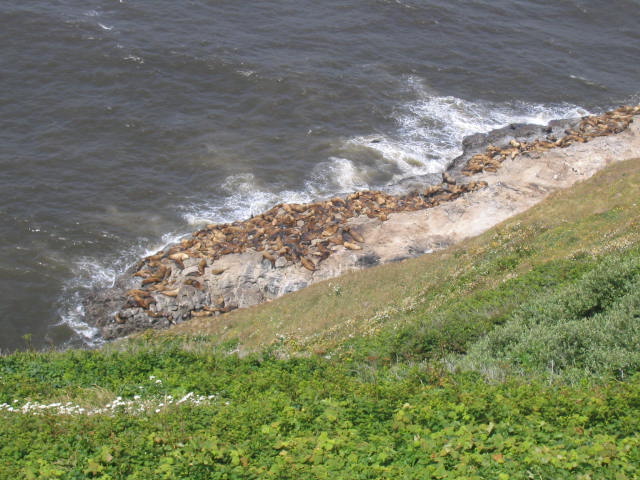 this may look like a line of brown sludge, but it's more sea ions…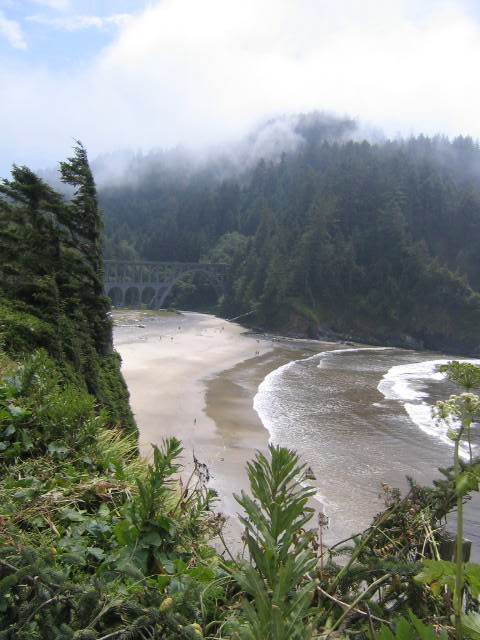 then we hit the coast proper…beautiful views, fog/mist, coasts, cold cold ocean, trees…the OR coast was amazing…
Maxine struck a Neptune-y pose as we fled Florence…
we stopped off to take a tour of the OR Dunes — who knew OR had dunes?! — in a massive all-terrain truck driven by Bob, who loved going down sheer sand cliffs and freaking out the squares riding with him…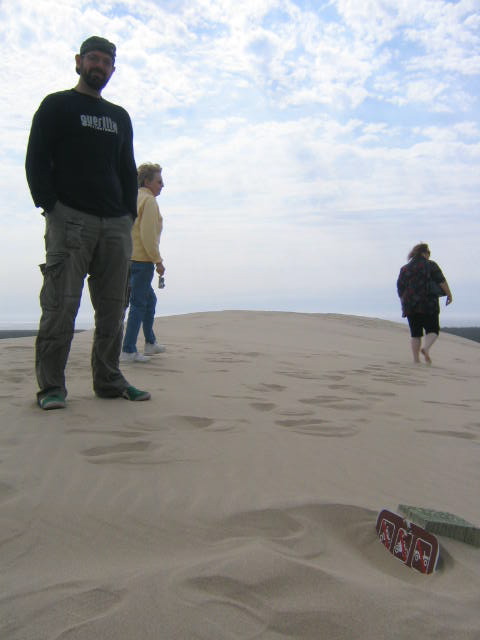 see the sign in the bottom right? it was about 5 feet tall and had just been covered by the shifting sands…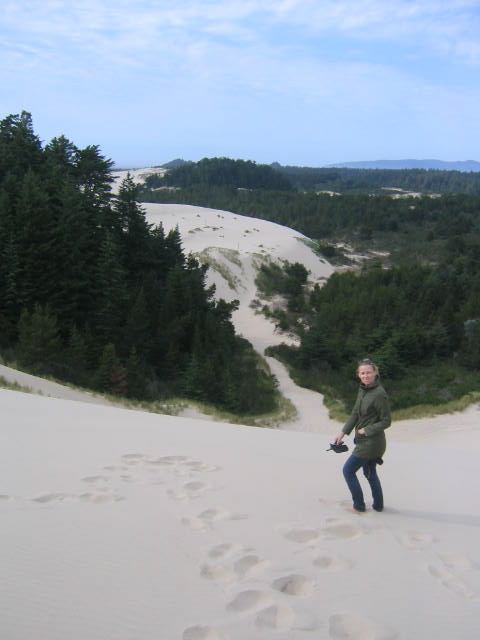 here Maxine tries to stop herself from running down into the off-limits area that was being "patrolled by cops" according to Bob…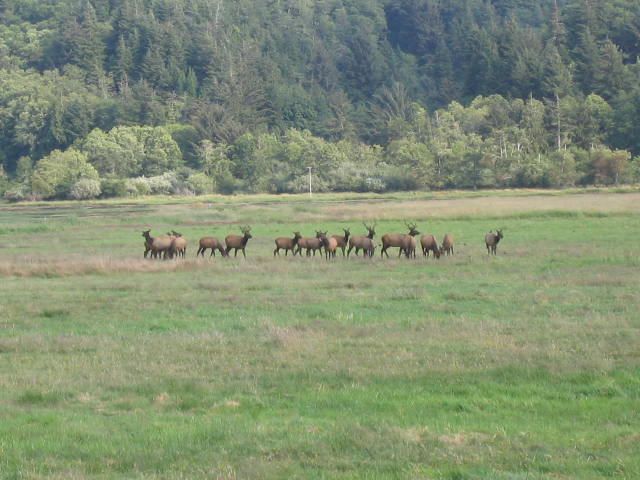 spotted a herd of elk in the "elk viewing area" off the main road…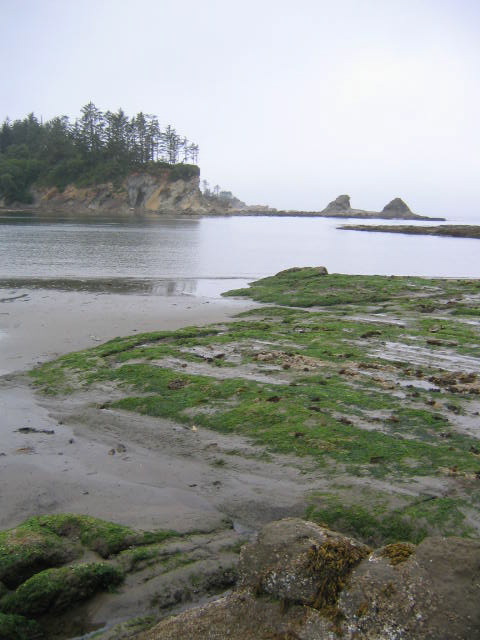 more stunning coast…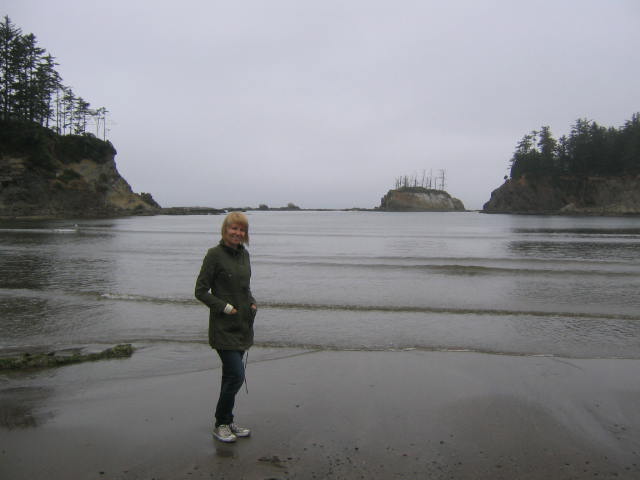 more stunning Maxine…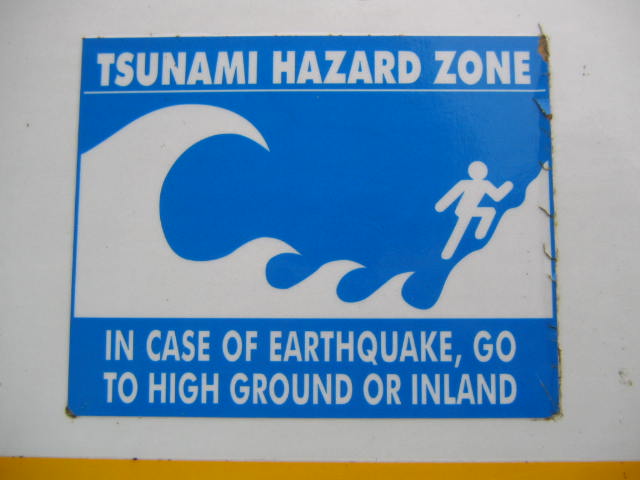 also, oddly, most of the OR coast was a tsunami zone! these signs were everywhere…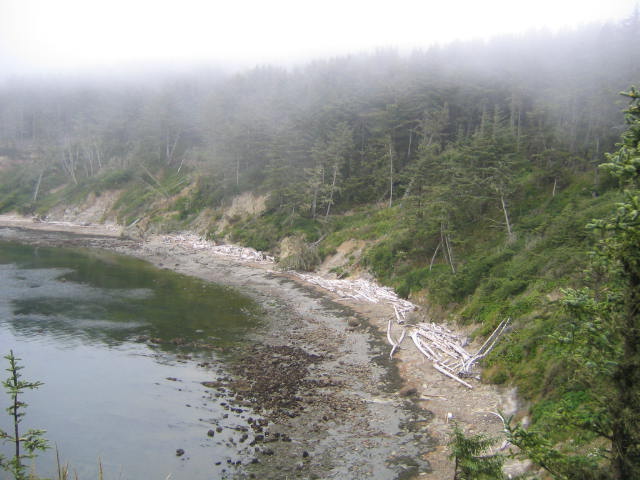 this coast had access to let us walk down a trail to that beach…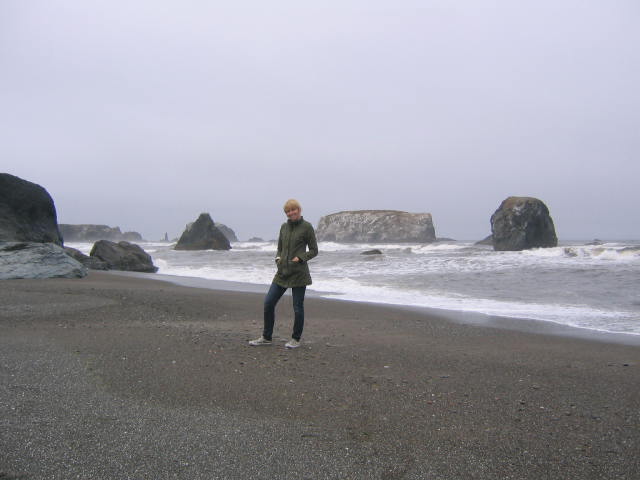 this coast was full of these weird rock outcroppings…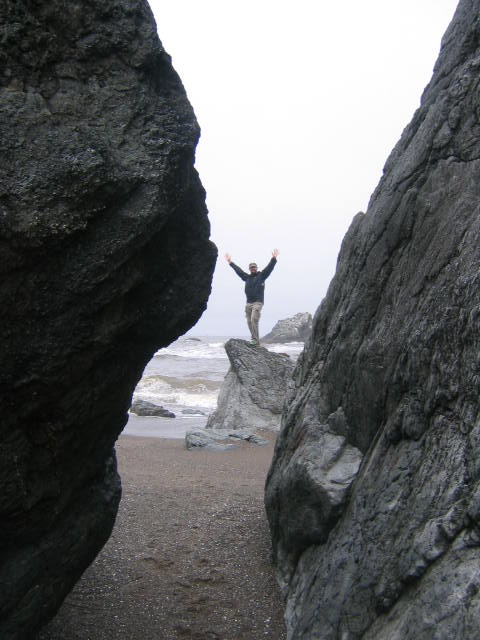 I strike a victory pose…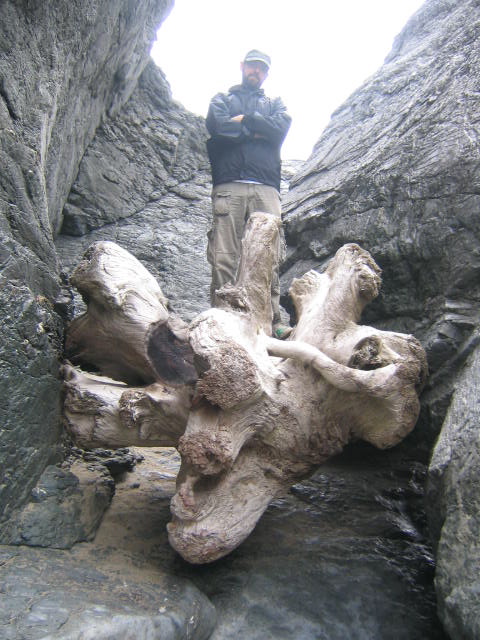 this will be the cover to my album if I ever have an album…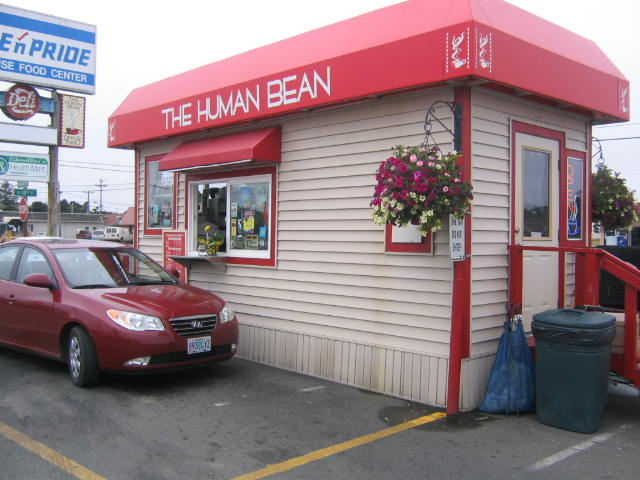 we were fascinated by OR & CA's small drive-thru coffee shacks…so convenient, so delicious…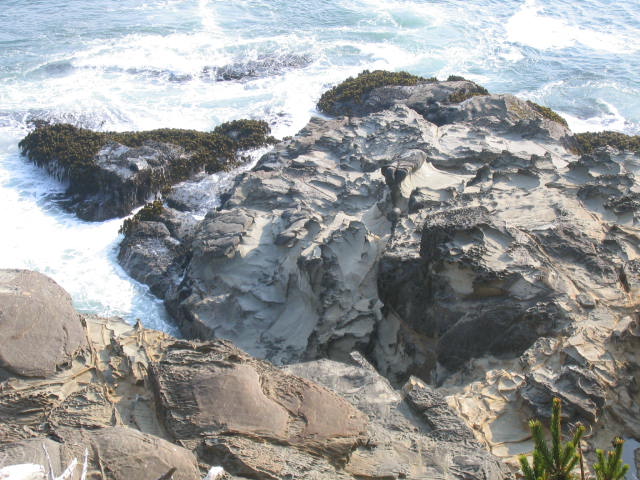 we walked down a great trail that led down to this rocky coastal edge…its hard to see, but these rocks are covered with wild starfish…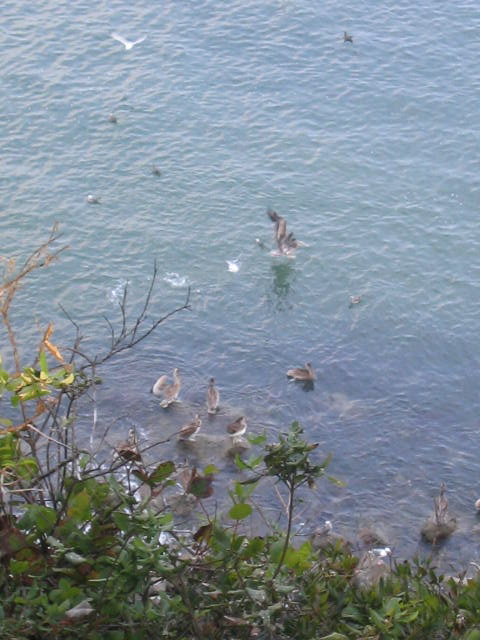 around sunset we saw a flock of pelicans start fishing…they would fly up in the air and divebomb like spears…there were lots of them and they went fishing for quite a while…
you can just make out the orange starfish on these rocks at water level…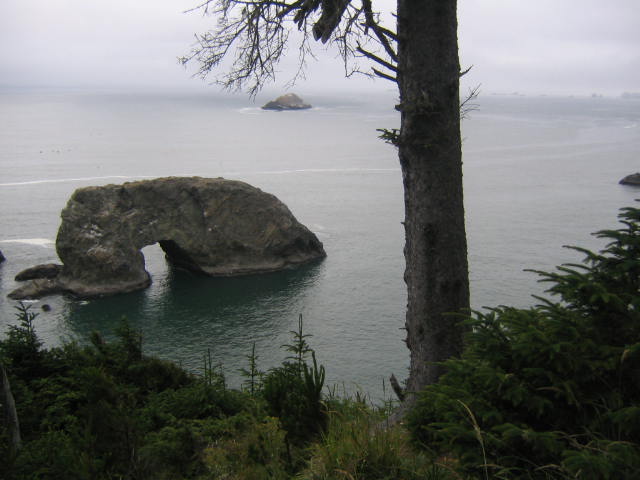 beautiful arch rock…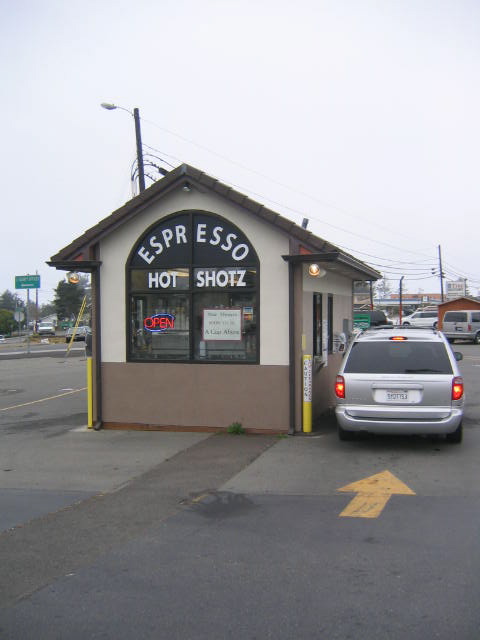 hot shotz!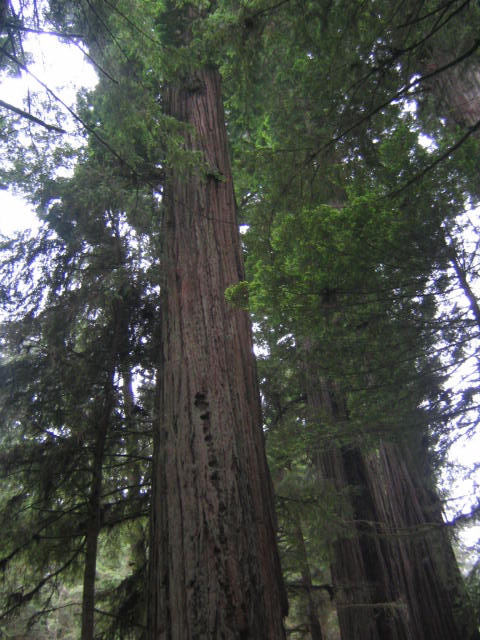 then we hit the giant redwoods. Unbelievable, staggering, huge, gigantic. Pictures won't do it justice, but suffice to say it was massive in both physical space and mental space.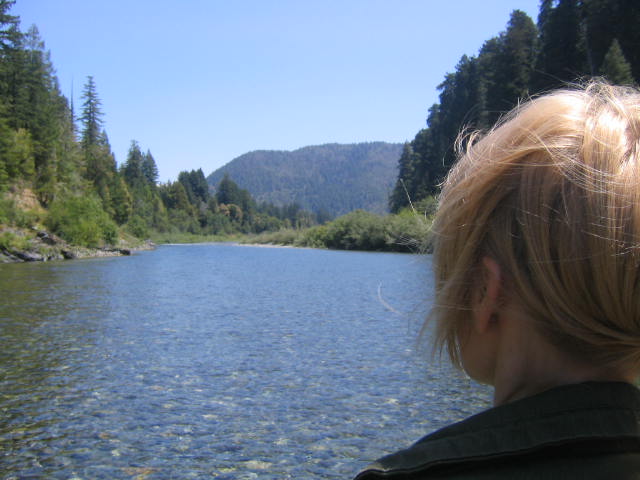 the first place we camped in the redwoods had a beautiful river running through it…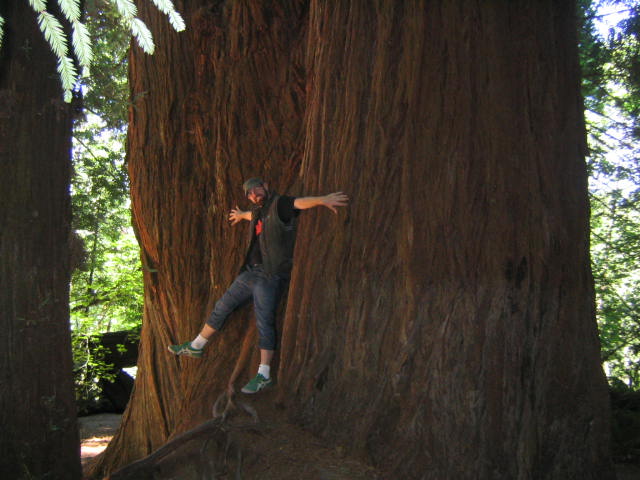 see how wide these trunks are?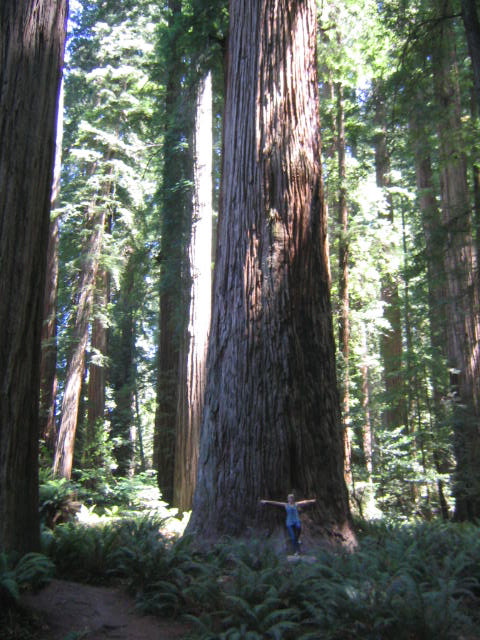 see how huge this tree is? that's Maxine at the base…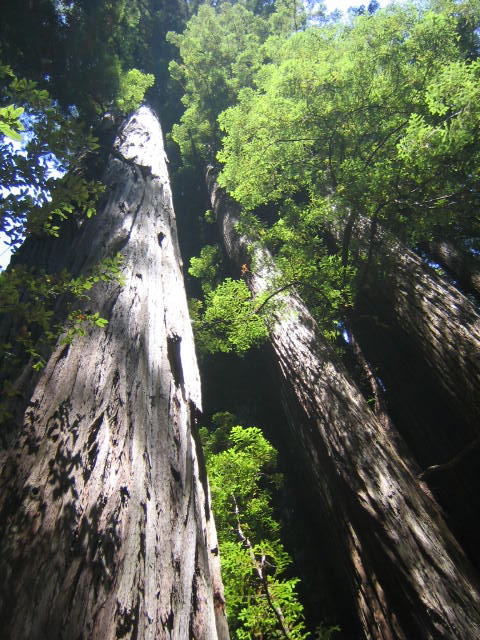 gorgeous…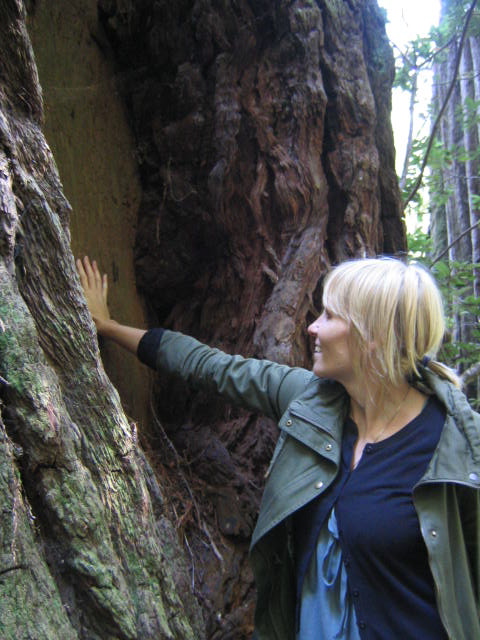 see how thick the bark is?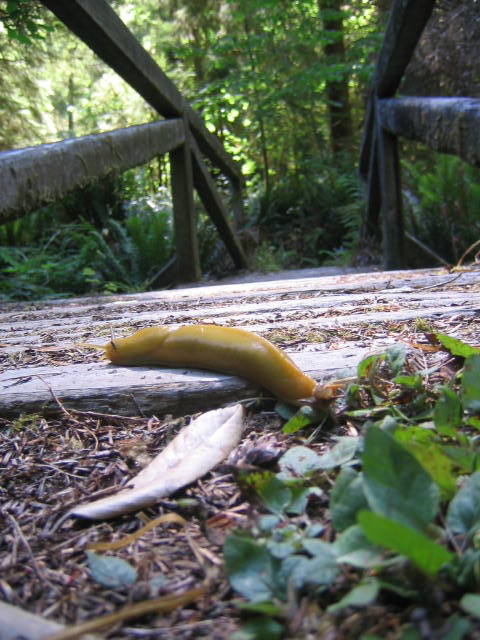 also the place is full of slugs (call security!)…this one was crossing the bridge when we passed by…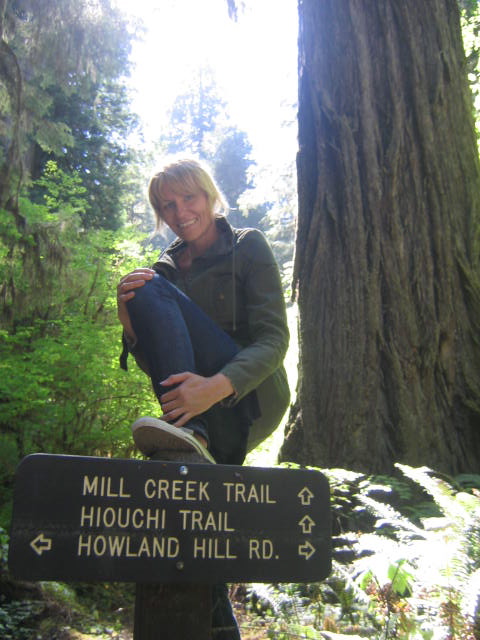 we hiked a bunch of trails, partly due to Maxine's drive/desire to see as many trees as possible…can't blame her really…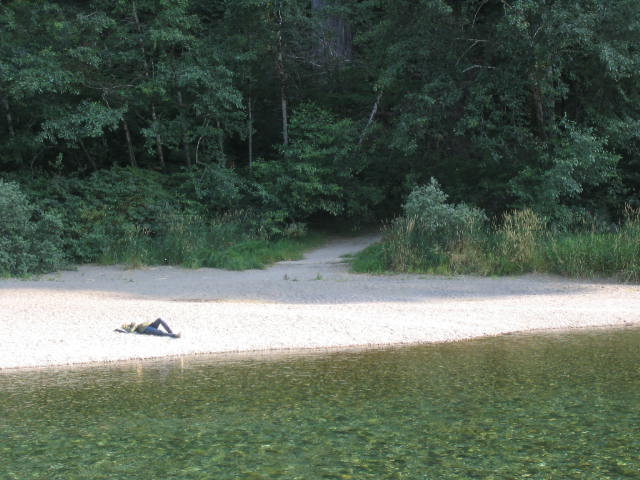 coming back, Maxine took a late afternoon nap on the rocky beach…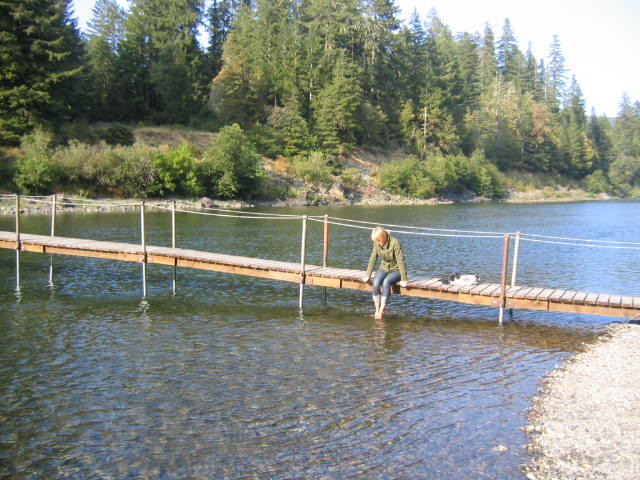 and then dipped her legs in the water, which was pretty warm (especially compared with the OR Pacific)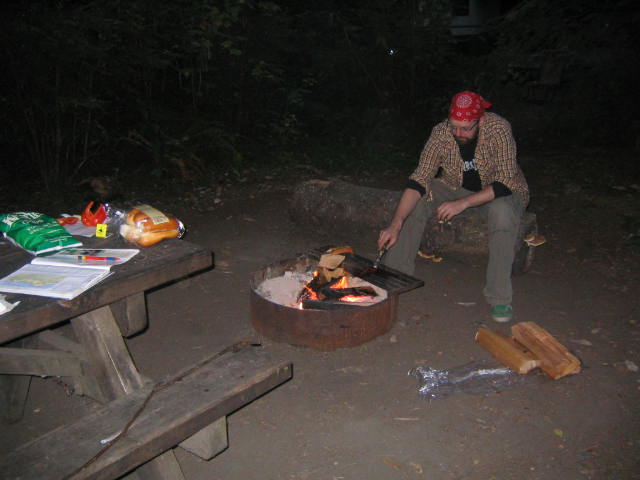 camping, cooking sausages, rocking the bandana…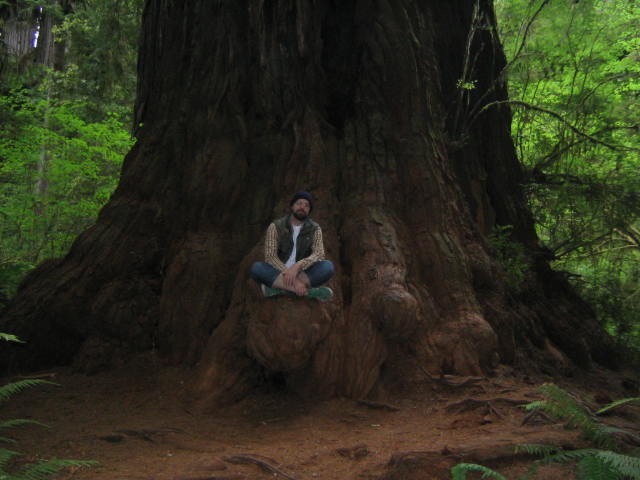 zenning out on how huge the trees are…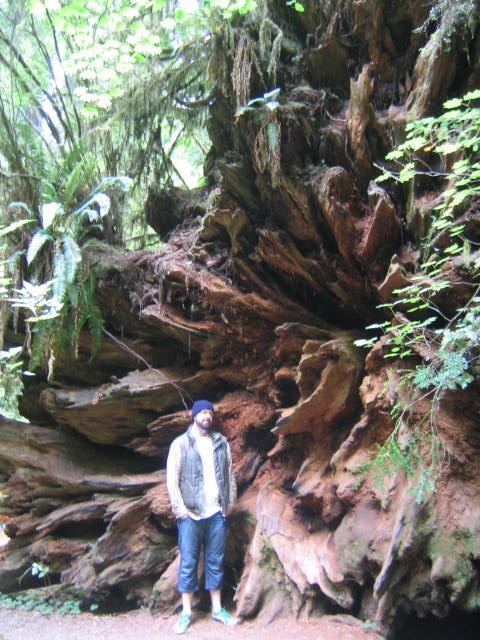 the trees that had fallen over were sometimes the most impressive…look how big those roots are…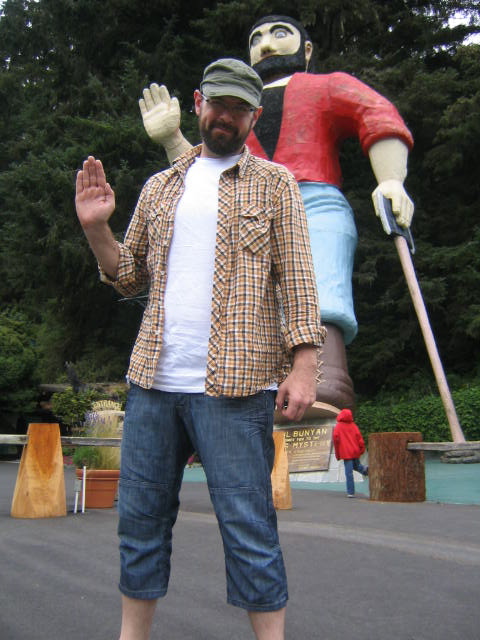 at one point we drove past this giant statue of Paul Bunyan, which I swear I remember from seeing as a kid…the hand would wave, and it was hooked up to some kind of mic/speaker so he could talk to kids…my favorite bit was when he told some kids to remember to "eat your vegetables". I loved this place.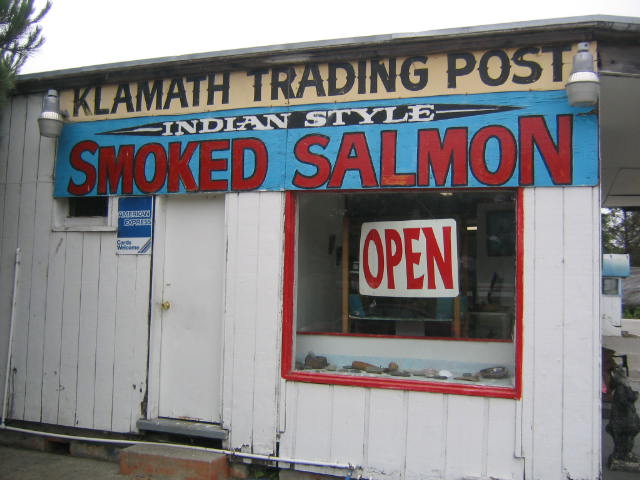 we got a tip from some fellow travellers that we should pick up some salmon jerky from "Indian Paul", so we did…we then learned that any time we left the car we should put that jerky in the trunk or deal with the lovely smell of hot salmon jerky…ik…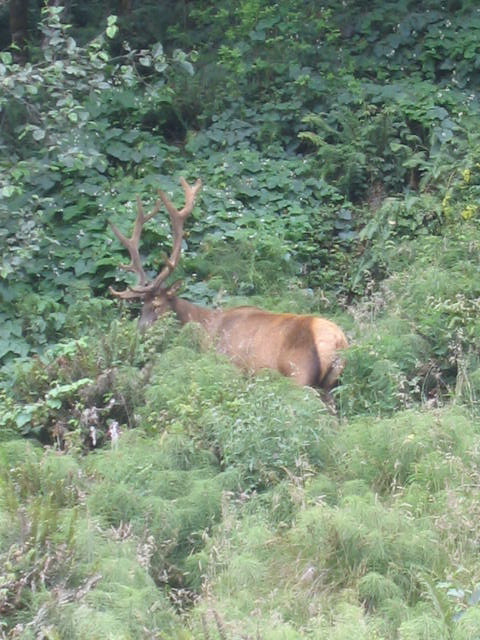 another tipster told us not to miss Fern Canyon in the Humboldt Redwoods, so we went there…on the way we got up close and personal with a couple of young bucks…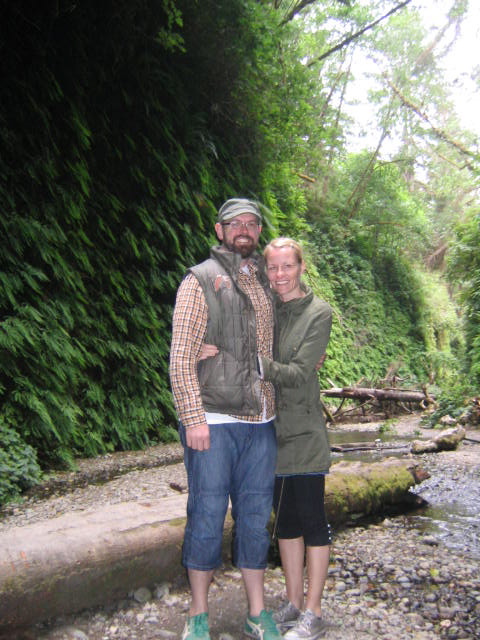 we made it into the canyon, which was stunning…they filmed Jurassic Park 2 there, and you could feel why…it felt like a dinosaur was going to come around the corner at any moment…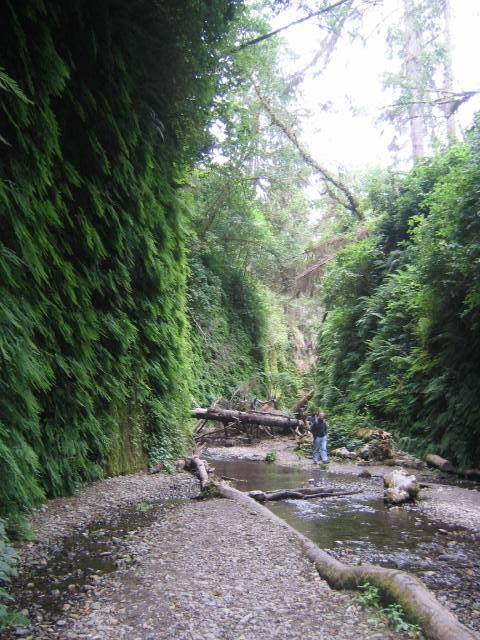 I swear, it's gonna come around the corner…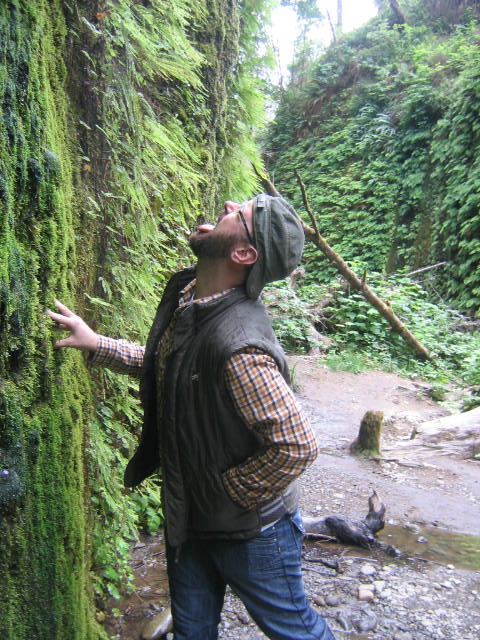 I drank some dripping water filtered by ferns that had been there for 240 million years or something…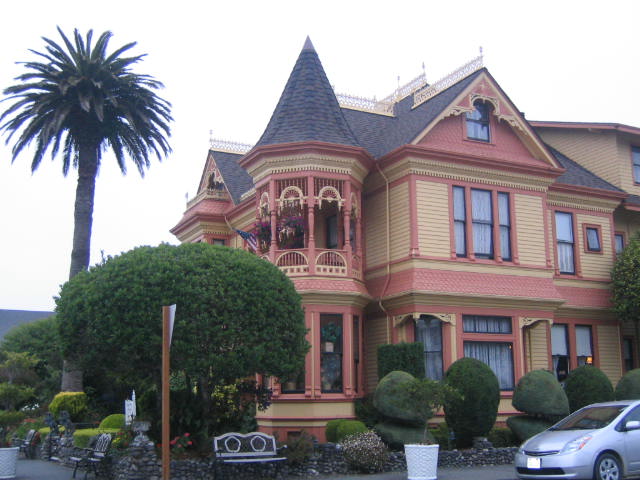 driving again, we took a little detour to Ferndale, a mysteriously Victorian town in the middle of nowhere…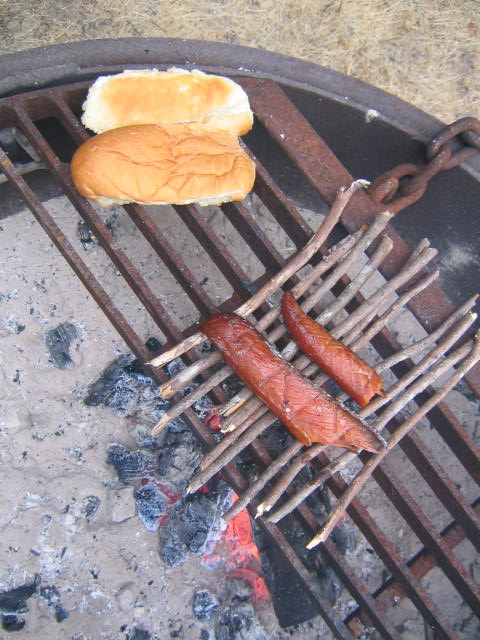 then we camped in the Redwoods again…even though all the signs said "campground full"…sometimes it pays to ignore those signs…the only thing we had left for breakfast was salmon jerky, so we cooked it up with a roll and breakfast'd it up!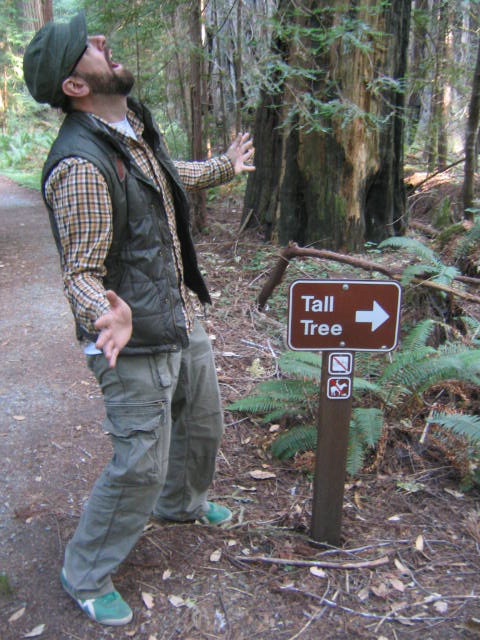 then we saw a tall tree…it used to be the tallest tree in the world, but was supersceded in 2004 (or something)…how do they know? can they track the height of every tree in the world?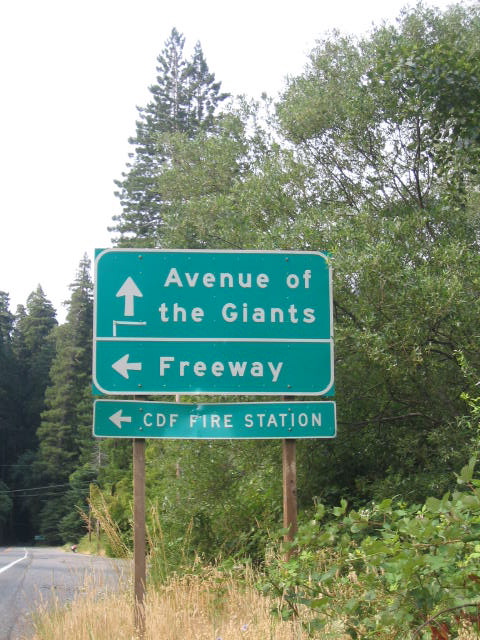 we drove the Avenue of the Giants…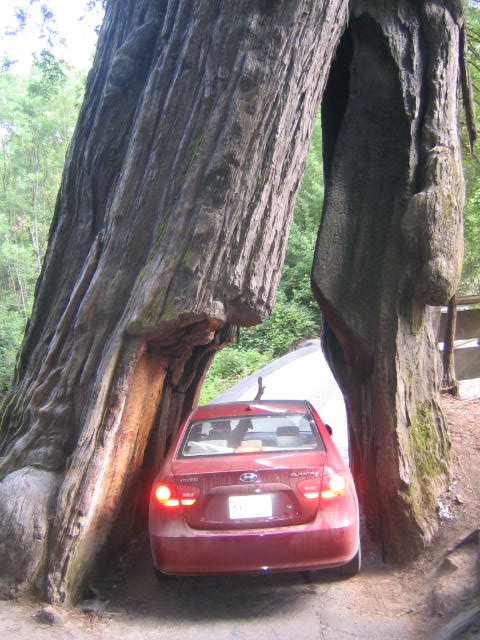 we drove through a tree…only $2!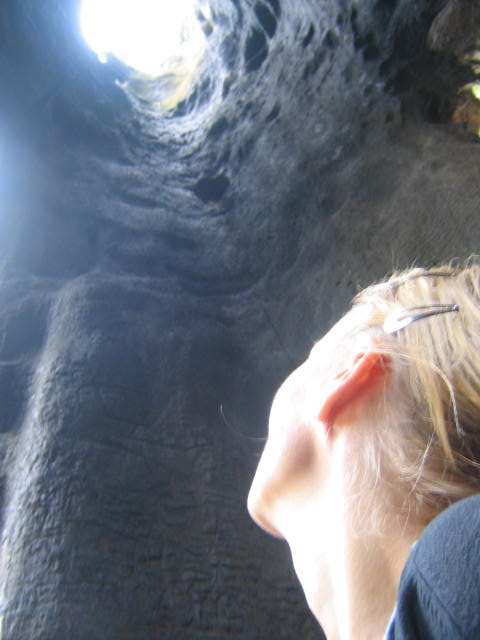 looking up while in the tree…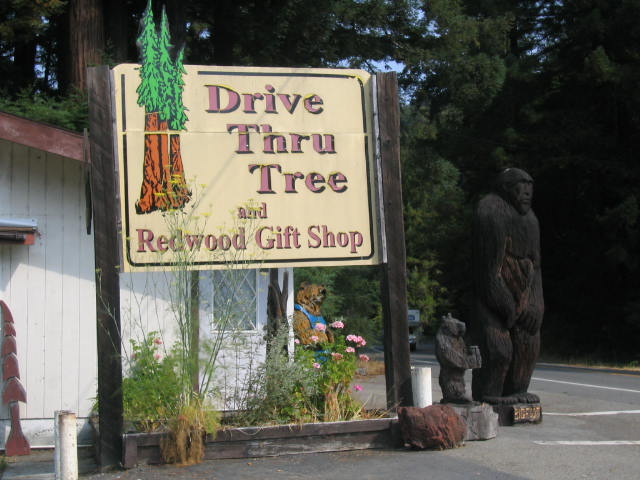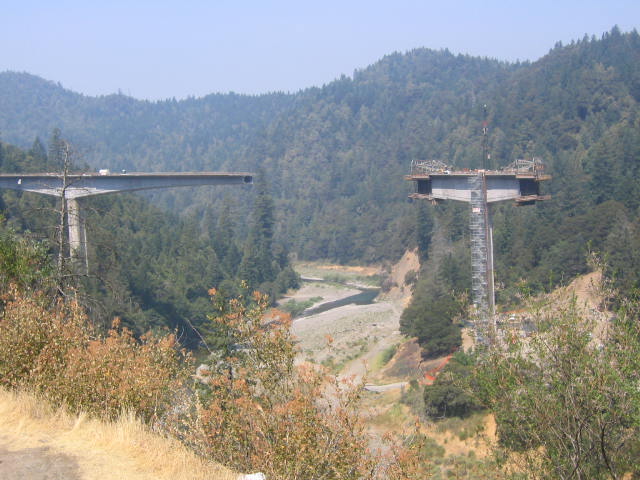 along the way we saw a highway bridge being built, which I've never seen like that…it looked so strange and sci-fi…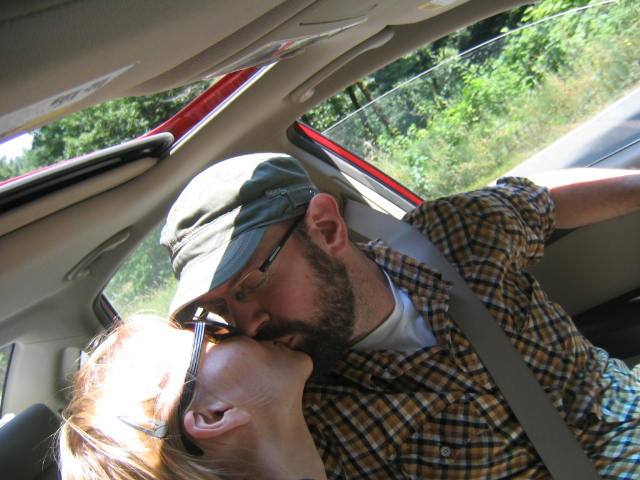 a kiss as we hit 1000 miles…in the middle of nowhere, CA…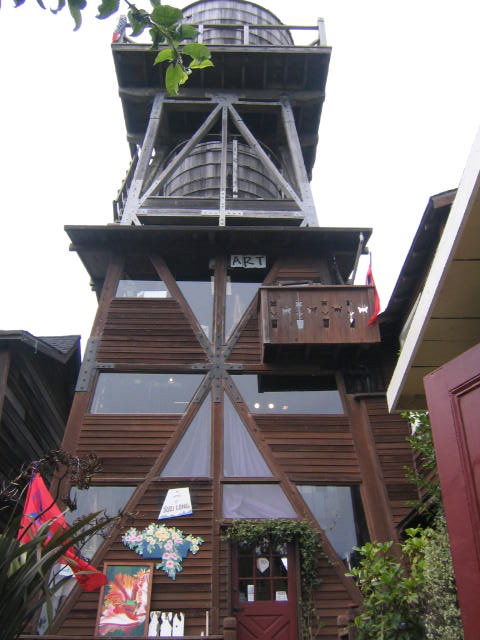 Mendicino, CA…a sort of artsy town, sort of expensive tourist-y, but sort of cool…this was an artist's house/gallery, made from an old water tower…pretty neat…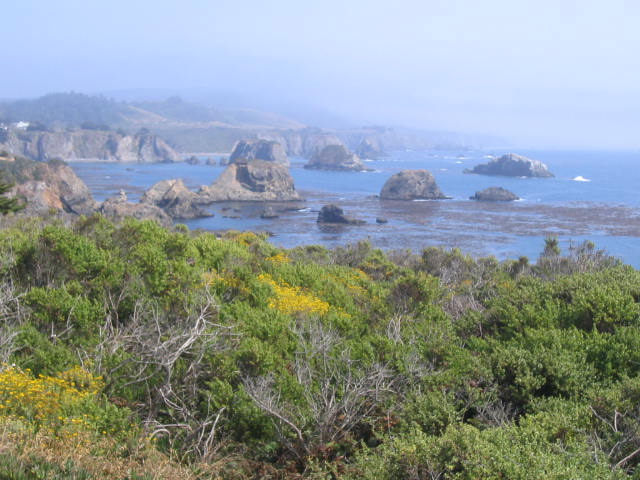 the CA coast, where the water suddenly shifts from OR black to CA blue…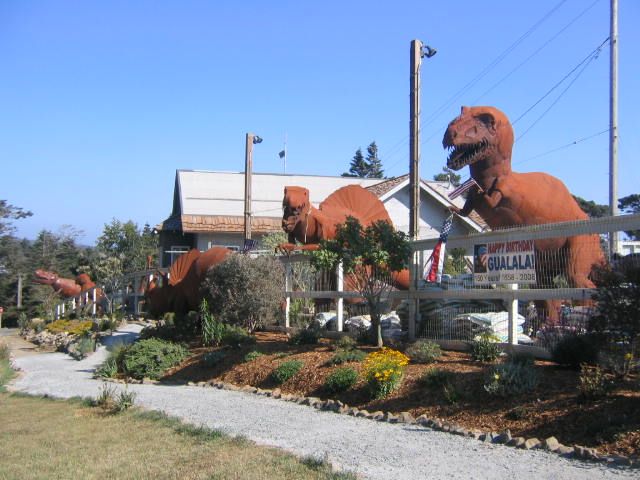 garden center with giant rusty dinosaurs…why? dunno, but it made people (like us) stop for pics…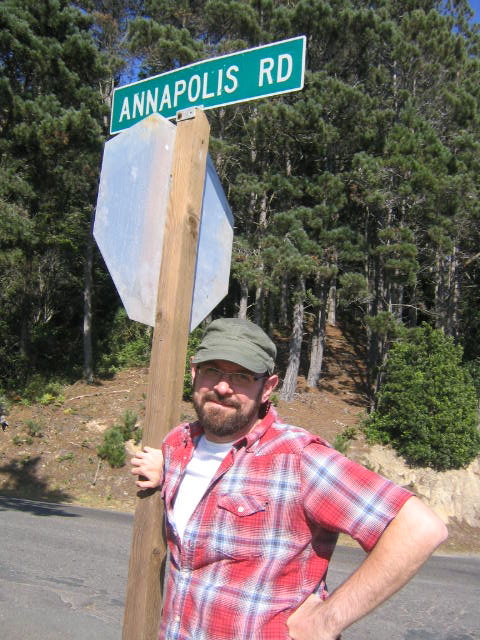 there was another Annapolis out there in CA, but it was a little too far off the path for us to visit…got the sign to prove itwasn't a dream…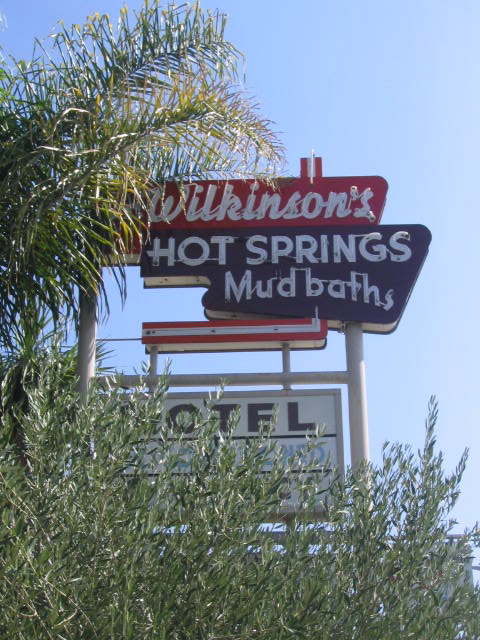 after a grueling day, we finally hit Calistoga at night, and checked into Dr. Wilkinson's Spa Hotel…the next morning we got mud baths, which were kind of overhwheming and relaxing…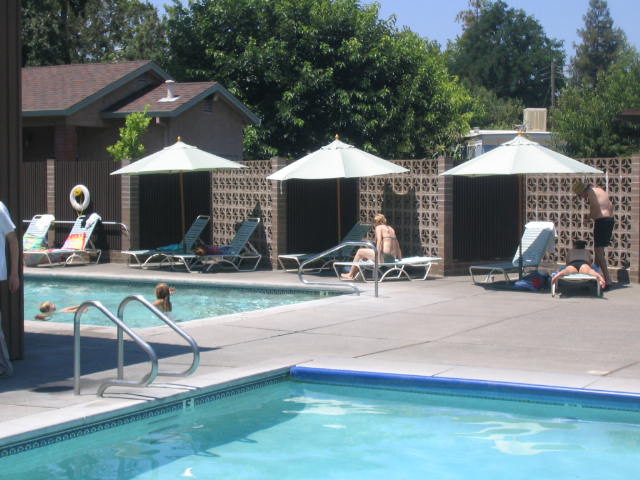 the pools there were different temps…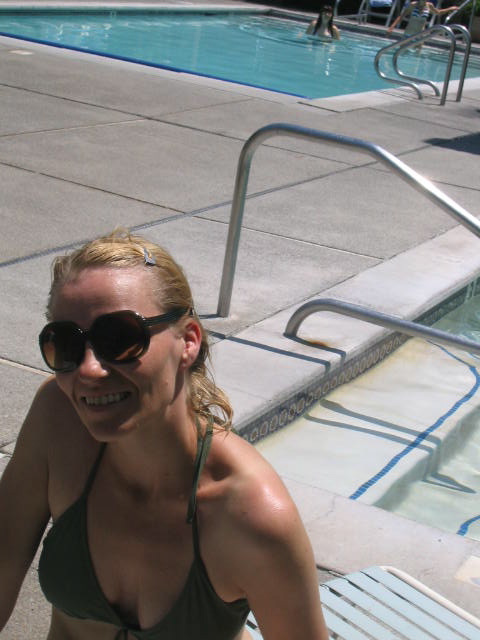 Maxine was loving it…she could've stayed there for like another 3 days…especially to recover from the previous day's extremely long and stressful day of driving…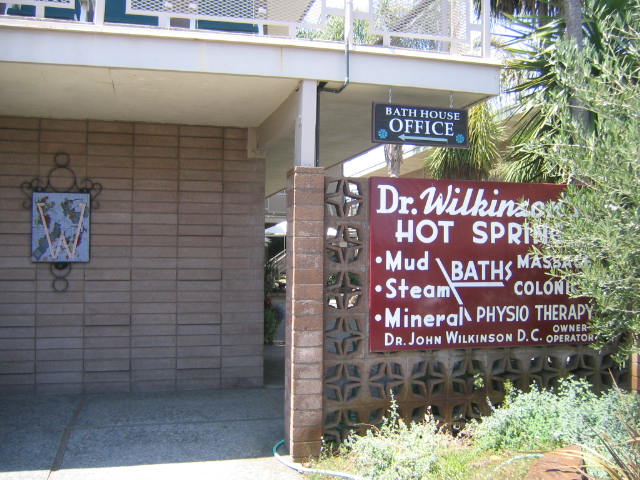 it was completely retro there, and Maxine successfully bargained our room rate down with the woman at the front desk…and a good thing too — Calistoga was expensive! The freaking Comfort Inn was $240 a night!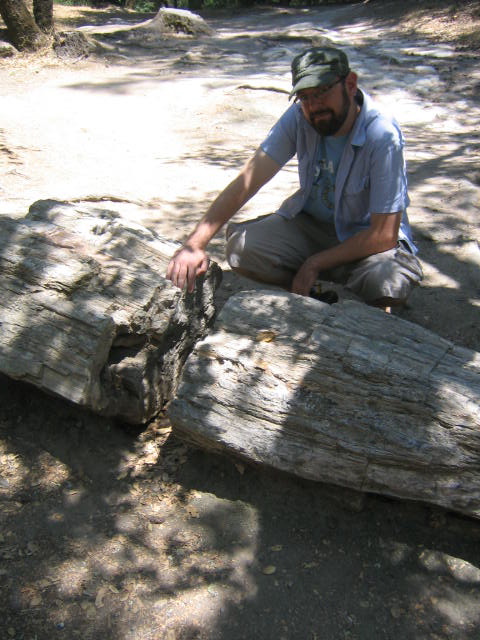 We stopped off at the Petrified Forest, which was so great, and only $6!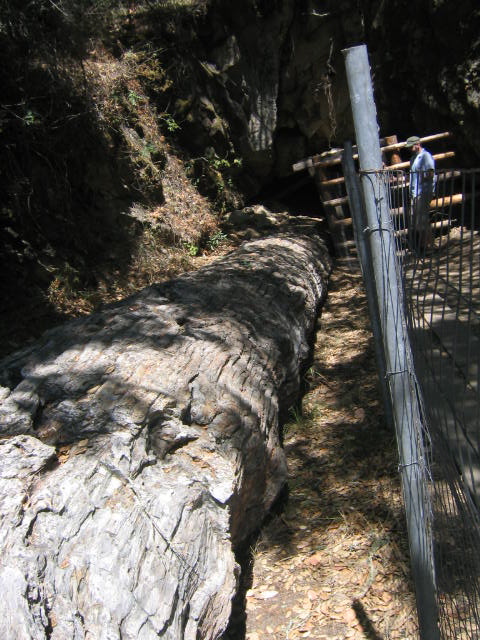 These trees are completely made of stone! The way they came about is convoluted but really cool…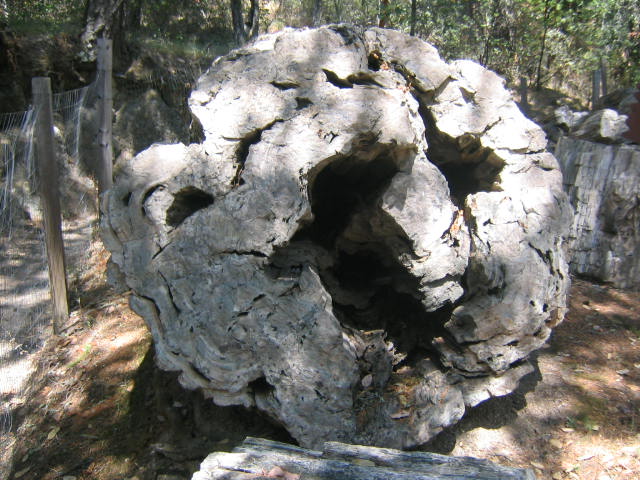 Trees knocked down in a volcanic blast were covered by mud…this mud allowed water with silica to seep in, and as the wood decomposed, it was replaced CELL by CELL with the silica…so each stone tree is a perfect cellular copy of a real tree. It was amazing to check them out up close — each little piece of bark, each tree ring, all reproduced in stone…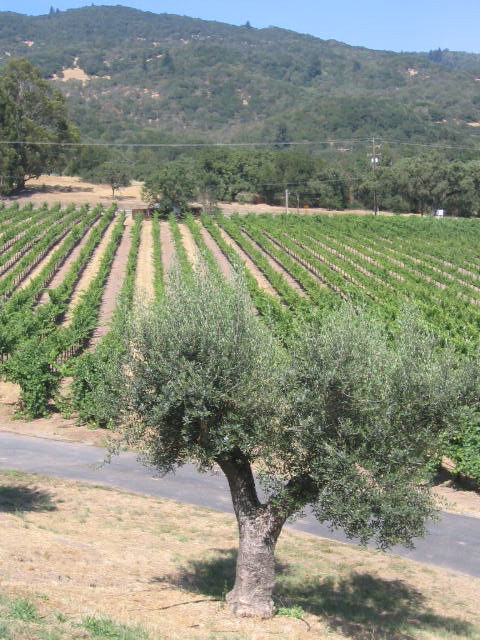 then we hit wine country in Sonoma…honestly we were a bit worn out, and got a late start (mud bath + petrified forest = late start)…we also didn't know that the wineries would close around 4:30! who's idea was that?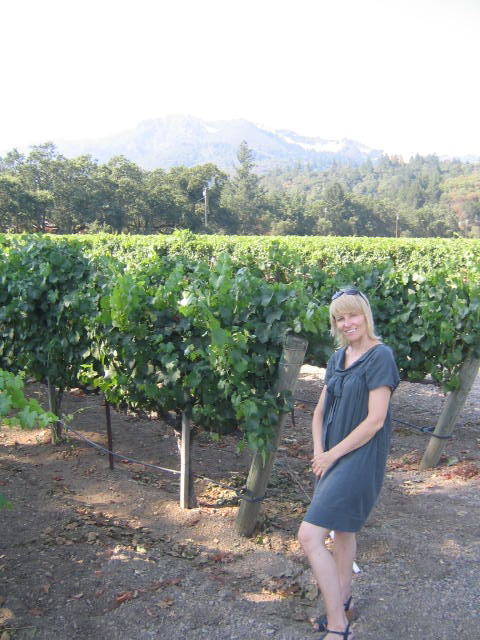 the are was beautiful though…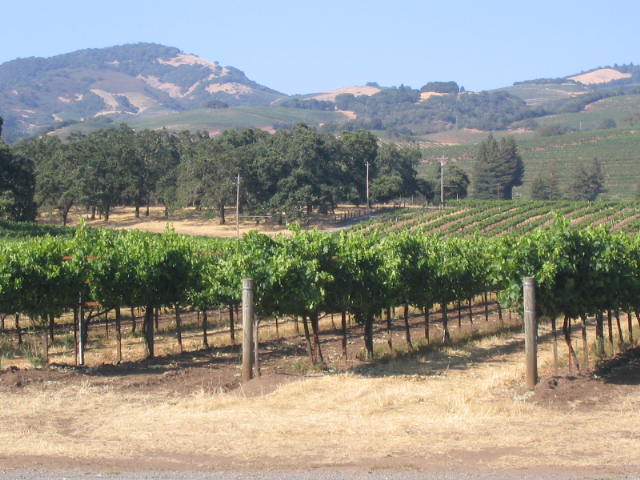 and it was a gorgeous day…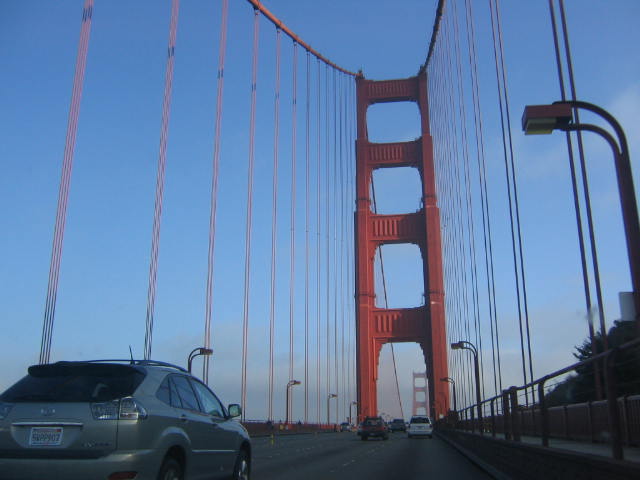 finally, we hit the Golden Gate on our way into SF…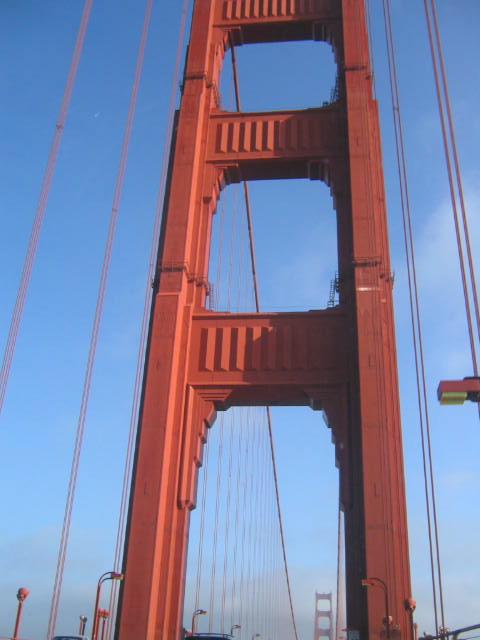 that bridge is big and epic…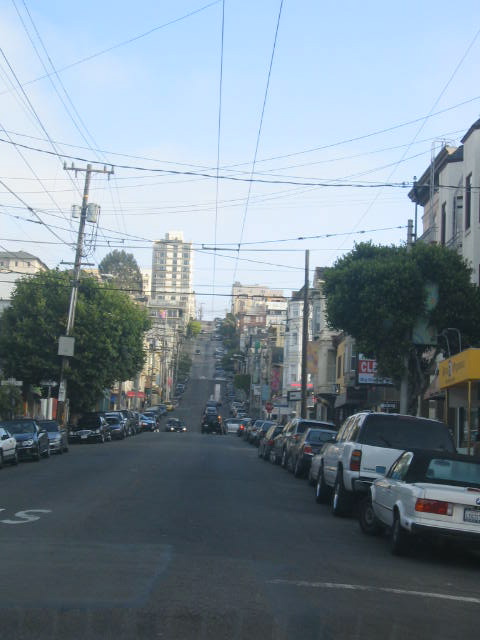 and the streets/hills in SF are epic as well…driving there wasn't that fun…having to stop on those inclines was serious business…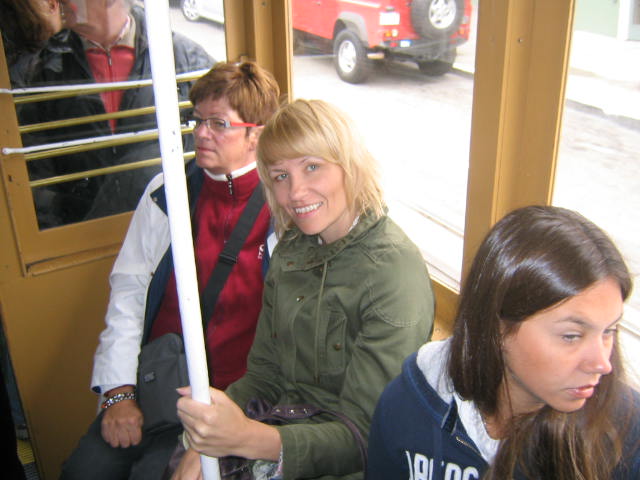 we took a cable car…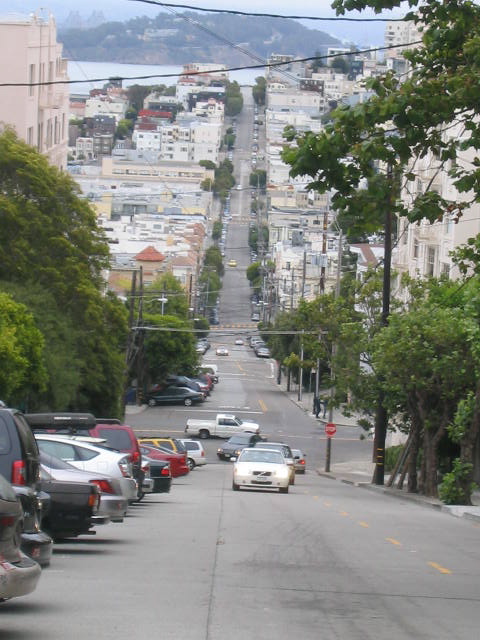 look at that incline!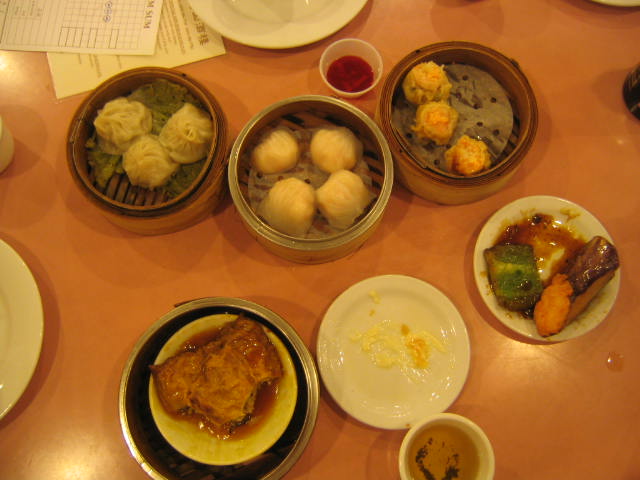 Sunday we went for Dim Sum in Chinatown…it was delicious, so much food, and crazy cheap!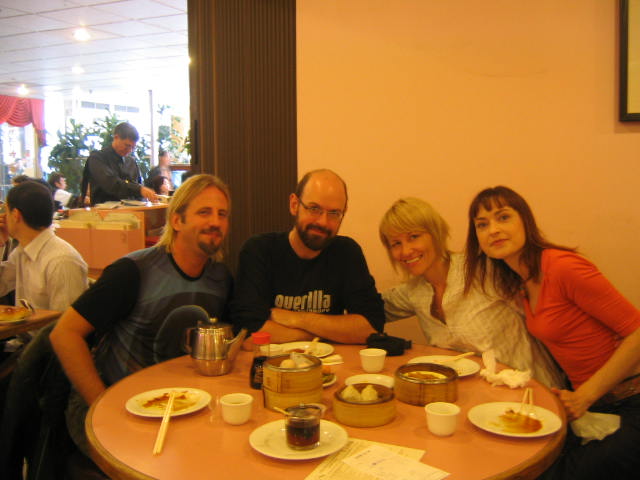 us with Z & G at Dim Sum…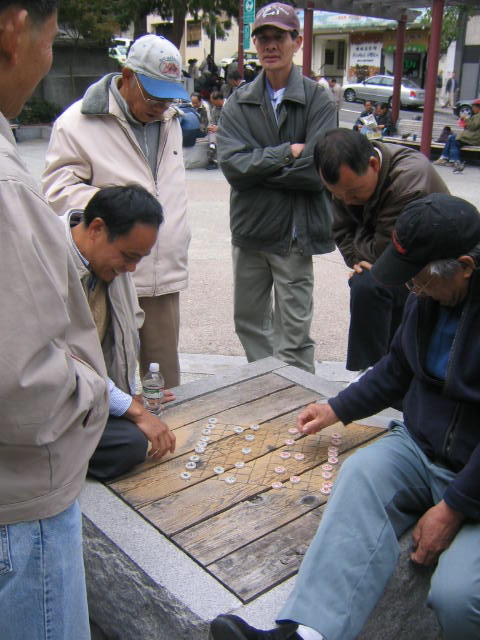 we saw guys playing Chinese chess…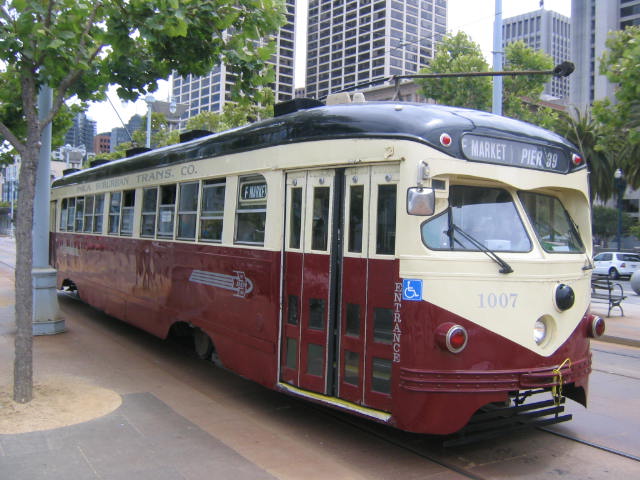 we saw retro olde-style trains…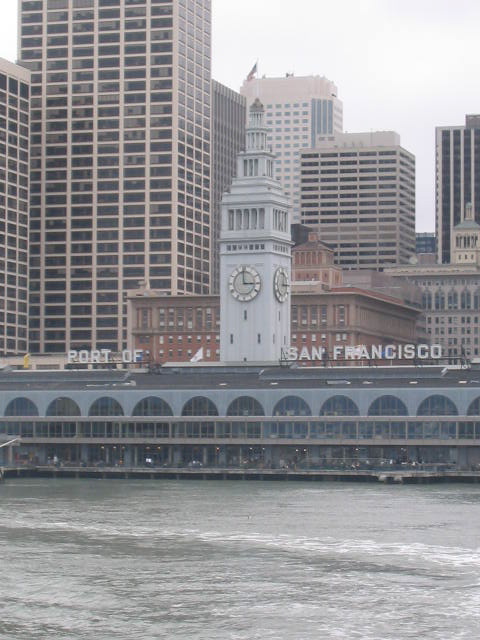 we took a ferry out of SF…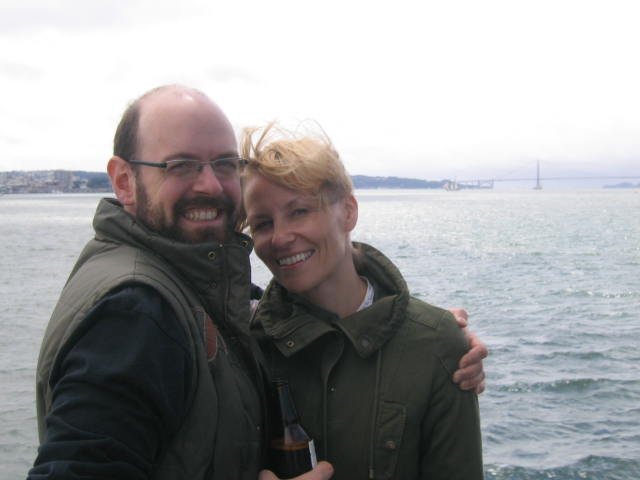 loving it, but bummed that it's our last day…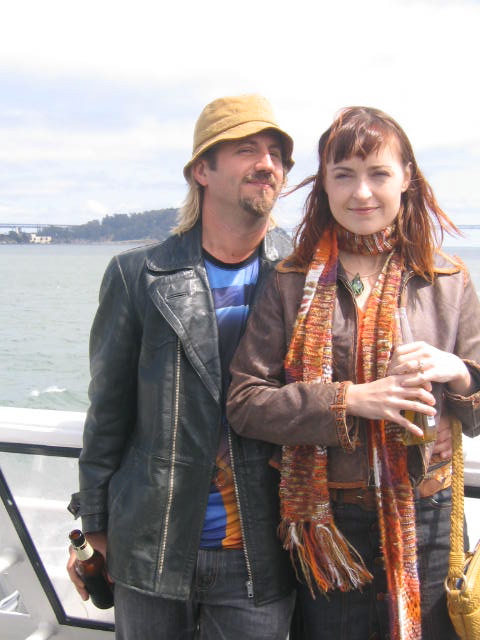 loving life and decked out like SF natives…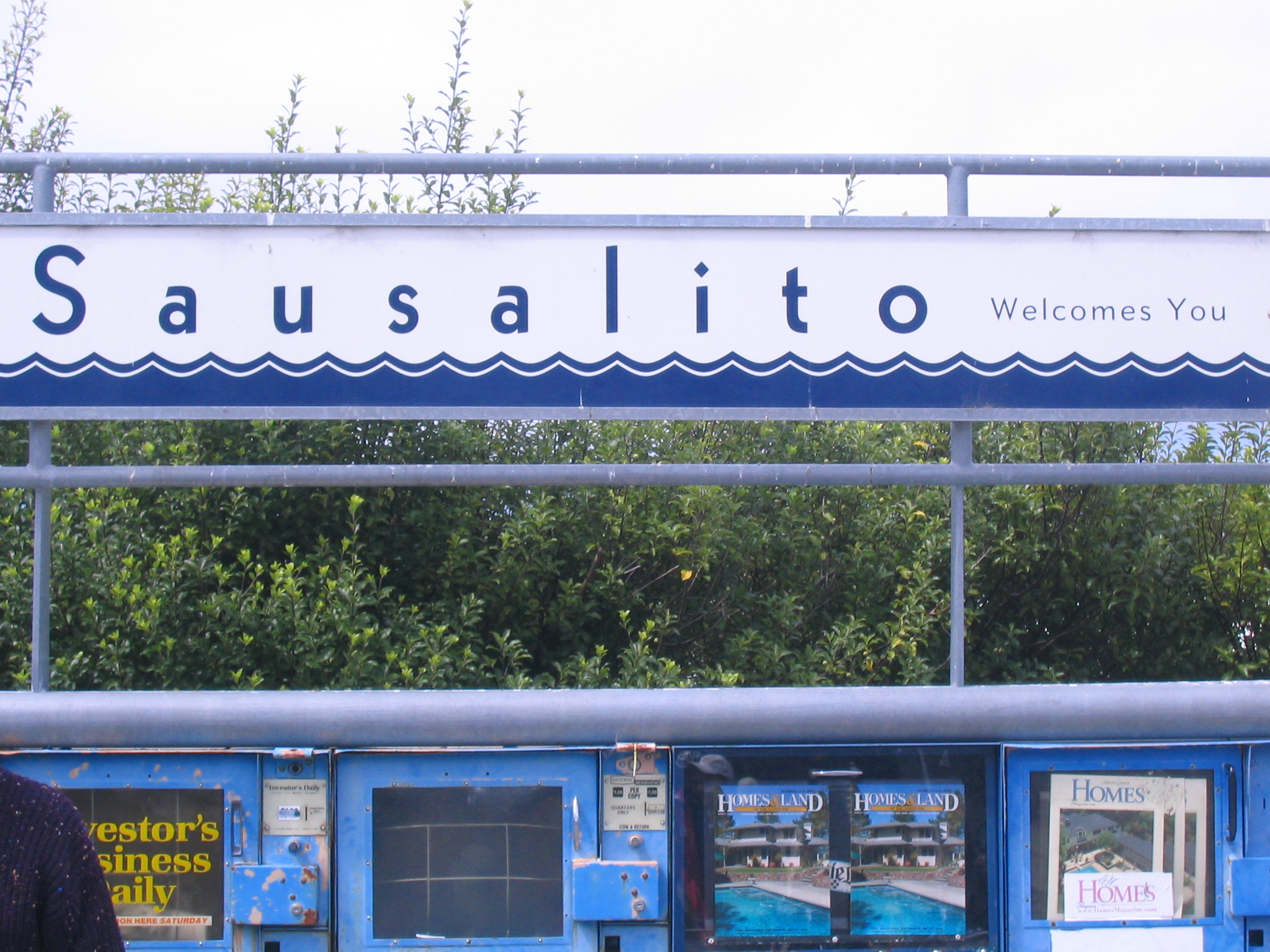 we walked around Sausalito (nice, small, low-key)…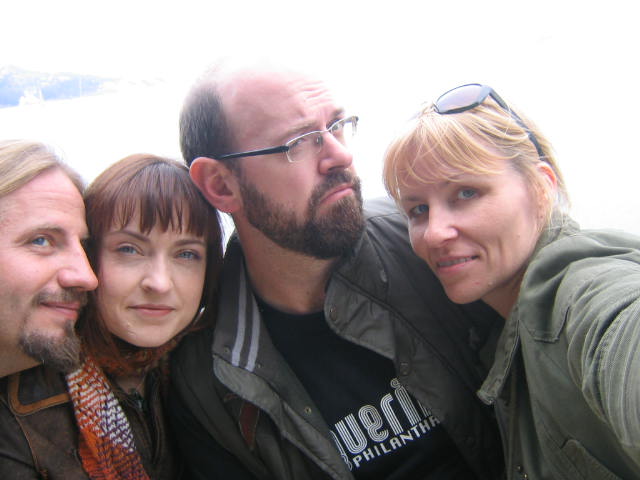 the fantastic four…
that night we got on the red-eye home, slept the next day and the it was back to work and regular life…the 10 days we spent out there seem like a dream now, but I'm sure they did happen…whew…