Ok, let's follow this path a little bit, and see what we're talking about as far as unlocking creativity.
First off, there was this short short film that I really wanted to make. Got an invite to submit a film to Moviehouse a few weeks ago, and so we made A Minor Revelation, which I have linked to before, but will do again for the sake of completeness.
A Minor Revelation from josh granger on Vimeo.
So that played at the Moviehouse film night, and there was a vote to see which of the 14 2-minute films would win. The vote was decided by applause, and we won, which was pretty exciting. Such a democratic way to vote too, it was a blast. What did we win, you ask? We won the first swing at the pinata they had for the rest of the party. So they handed me a big wooden stick, and told me to give it a go.
I took one crack at it, and decapitated the thing. Done. One blow. It was fun as hell. Someone got a great pic of it: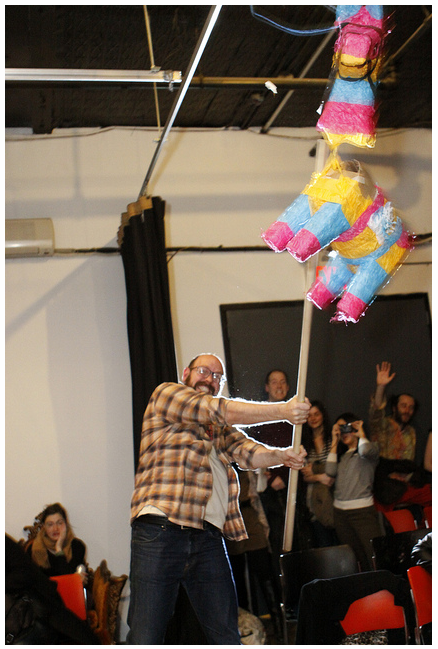 Then, it keeps going. Unbeknownst to me, friend HB and MRT made off with the head and hatched a whole plan to hit me like that scene with the horse's head in The Godfather. Last weekend was such a monster — we were out trying to see an event at 3:30am on Saturday morning, then had guests visit for Saturday & Sunday (and they are guests who like to drink), so it was late nights all round. Monday I knew I was staring at a full day of work, so really Sunday morning was the only time I had to try and sleep in, recover. Went to bed late Saturday night after a heavy round of drinking, so stoked to turn off the alarm and just sleep as long as I wanted…
And was awakened to the pinata head, and MRT filming me and giggling. When you watch this, look at me, look at how I'm hiding from the camera, I'm in so much pain, both physical and spiritual. All I want to do is hide.
I don't know if you caught it, but the only way I was able to get her to turn off the camera was by saying "You wouldn't want me filming you when you wake up in the morning." Because believe me, she wouldn't. Let's put it mildly and say she's not a morning person.
So she left me alone, and I was lying in bed, frying my brain because I couldn't get back to sleep after that crazy experience. My brain was on overdrive, and I hit on the idea that what we needed to do with our afternoon was to shoot a remake of that Godfather scene, shot-for-shot. And since MRT had put me through some pain that morning, I was pretty sure I was in a good place to demand that this happen.
We loaded up the scene from youtube, had it on the iphone, and made a shot-for-shot remake. It was a good time, 'cuz our friend who were visiting were tv folks too (an AP and an editor) so we all got really into it. Loaded it up, put the original sound under it, and AK who was staying with us dialed up an awesome sepia color-correct to try and match the original…it came out well…
But the real fun is with youtube doubler, which I have come across a number of times, and with which you can run the original and our remake at the same time to see how close we got…not bad for just an afternoon…you'll know it's in sync if the audio sounds normal (no echo)…if it won't sync up, try going to the original page, and if it still won't sync there, try hitting refresh a bunch…
Yeah, that's a lot of good stuff.